Senecio viscosus L.,Sp. Pl.: 868 (1753) (syn: Jacobaea viscosa Gilib.; Obaejaca viscosa Cass.; Senecio calvertii Boiss.; Senecio glutinosus Schur; Senecio tymphresteus Boiss. & Heldr.; Seneciunculus viscosus Opiz);
.
Europe to Caucasus: Albania, Austria, Baleares, Baltic States, Belarus, Belgium, Bulgaria, Central European Rus, Czechoslovakia, Denmark, East European Russia, Finland, France, Germany, Great Britain, Greece, Hungary, Ireland, Italy, Netherlands, North Caucasus, North European Russi, Northwest European R, Norway, Poland, Romania, Spain, Sweden, Switzerland, Transcaucasus, Turkey, Ukraine, Yugoslavia; Introduced into: Alberta, British Columbia, Connecticut, Illinois, Khabarovsk, Krasnoyarsk, Maine, Manitoba, Massachusetts, Minnesota, New Brunswick, New Hampshire, New Jersey, New York, Newfoundland, Nova Scotia, Ontario, Pennsylvania, Primorye, Prince Edward I., Québec, Rhode I., Sakhalin, Saskatchewan, West Siberia, Wisconsin as per POWO;
.
---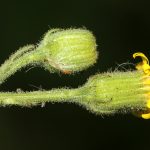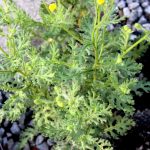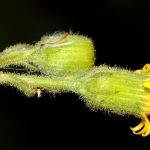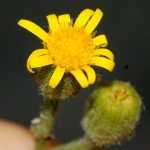 Senecio viscosus from J.C. Saddington Park Mississauga Canada-GS06062021-2: 4 images.
Senecio viscosus L.
Common Name: Sticky ragwort
Annual herb
with glandular hairs, pinnately lobed leaves with somewhat wavy margins; heads yellow, corymbiform, phyllaries with back tips; rays very small, barely 1-2 mm.
Photographed from J.C. Saddington Park Mississauga Canada on 23-8-2019.
---
---
.
References: POWO  Catalogue of Life  The Plant List Ver.1.1  GCC  IPNI
https://www.minnesotawildflowers.info/flower/sticky-ragwort
https://gobotany.nativeplanttrust.org/species/senecio/viscosus/
https://en.wikipedia.org/wiki/Senecio_viscosus