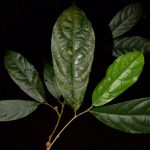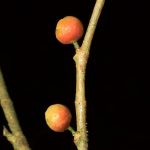 Ficus subincisa: 2 high res. images.
Ficus subincisa
Behali Reserve Forest, Biswanath, Assam, India
---
This should be Ficus heteropleura Blume.
Basal bracts not clear in photos, and leaves lack coarsely toothed margins above the middle which are present in F. subincisa.
---
This is definitely not F.heteropleurea. I have once confirmed it with the help of Sudhakar Ji. But I might have misplaced the name with F.subulata. But will confirm soon.
But it's not F.heteropleurea, which have pubescent figs, and long caudate and coriaceous leaves.
---
Thanks for confirmation by …, but photos are in macro shots and hard to differentiate sessile or sub-sessile receptacles found in Ficus subulata, beside sessile receptacles stipules are as long as the petioles in F. subulata.
Whereas stipules are minute in attached leaf photograph.
---
Could you pl. confirm?
---