Sonchus arvensis L., Sp. Pl. 793 1753. (syn: Hieracium arvense Scop.; Hieracium spinulosum Spreng.; Lepicaune spinulosa Lapeyr.; Sonchoseris arvensis Fourr.; Sonchus arvensis var. eglandulosus Farw.; Sonchus arvensis var. shumovichii B.Boivin; Sonchus cumbulus Buch.-Ham. ex Wall.; Sonchus exaltatus Wallr.; Sonchus glaber Schult.; Sonchus glandulosus Schur; Sonchus hispidus Gilib.; Sonchus intermedius W.D.J.Koch; Sonchus ketzkhovelii Schchian; Sonchus laevissimus Schur; Sonchus longifolius Wall.; Sonchus maritimus Turcz.; Sonchus nitidus Vill.; Sonchus orixensis Roxb.; Sonchus repens Bubani);
.
Temp. Eurasia: Altay, Amur, Austria, Baltic States, Belarus, Belgium, Bulgaria, Central European Rus, Czechoslovakia, Denmark, East Aegean Is., East European Russia, Finland, France, Føroyar, Germany, Great Britain, Greece, Hungary, Ireland, Italy, Kamchatka, Kazakhstan, Khabarovsk, Kirgizstan, Krasnoyarsk, Krym, Kuril Is., Magadan, Mongolia, Netherlands, North Caucasus, North European Russi, Northwest European R, Norway, Oman, Poland, Primorye, Romania, Sakhalin, Sardegna, Sicilia, South European Russi, Spain, Sweden, Switzerland, Tadzhikistan, Transcaucasus, Turkey, Turkey-in-Europe, Tuva, Ukraine, Uzbekistan, West Siberia, Yugoslavia; Introduced into: Alaska, Alberta, Assam, British Columbia, California, Chatham Is., Colorado, Connecticut, Delaware, Fiji, Guatemala, Idaho, Illinois, India, Indiana, Iowa, Japan, Jawa, Kentucky, Maine, Manitoba, Maryland, Massachusetts, Michigan, Minnesota, Missouri, Montana, Nevada, New Brunswick, New Hampshire, New Jersey, New York, Newfoundland, North Dakota, Northwest Territorie, Nova Scotia, Ohio, Ontario, Oregon, Pennsylvania, Prince Edward I., Québec, Rhode I., Saskatchewan, South Dakota, Utah, Vermont, Vietnam, Washington, Wisconsin, Wyoming as per POWO;
.
---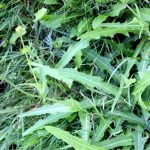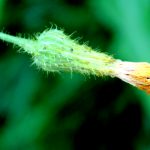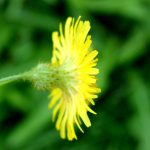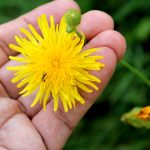 Sonchus arvensis from Canada-GS18062021-1: 4 images.
Sonchus arvensis var. arvensis
Sonchus arvensis
as understood now does not occur India or China,
is a perennial species
which unlike
S. brachyotus (peduncles and phyllaries glabrous  at the most few hairs at base) and S. wightianus (florets reddish outside, peduncles and phyllaries glandular hairy in subsp. wightianus, white tomentose in Subsp. wallichianus)
has glandular hairy peduncles and involucre bracts (stalked glands in var. arvensis,
few sessile glands in var. uliginosus).
 They are however, genetically very distinct, S. arvensis var. arvensis is a hexaploid, var. uliginosus a tetraploid and, S. brachyotus S. wightianus being involved parents along with S. maritimus. The taxonomy is very complex.
Here is S. arvensis var. arvensis clicked from Kaneff Crescent, Mississauga, Canada, 31-7-2019
---
---
.
References: POWO  Catalogue of Life  The Plant List Ver.1.1  GCC  IPNI  GBIF (High resolution specimens)  Wikipedia
https://www.minnesotawildflowers.info/flower/perennial-sowthistle
https://www.cabi.org/isc/datasheet/50583