Calamus latifolius Roxb., Hort. Bengal. 73 1814. (syn: Calamus dumetorum Ridl.; Calamus gregisectus Burret; Calamus humilis Roxb.; Calamus kerrianus Becc.; Calamus loeiensis Hodel; Calamus macracanthus T.Anderson; Calamus palustris Griff.; Calamus palustris var. cochinchinensis Becc.; Palmijuncus humilis (Roxb.) Kuntze; Palmijuncus latifolius (Roxb.) Kuntze; Palmijuncus macracanthus (T.Anderson) Kuntze; Palmijuncus palustris (Griff.) Kuntze);
.
E. Nepal to Indo-China and Peninsula Malaysia: Andaman Is., Assam, Bangladesh, Cambodia, East Himalaya, Laos, Malaya, Myanmar, Nepal, Nicobar Is., Thailand, Vietnam as per POWO;
.
---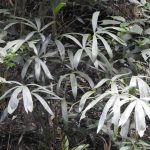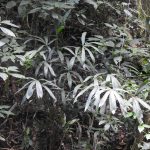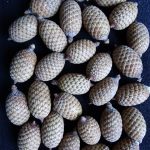 MS, June,2021/16 Calamus sp. (inermis?) for id.: 4 images.
Location : Mawmrang tlang
Date : 07-11-2019
Same Calamus sp.
---
could be Calamus latifolius
---
---
.
References: POWO  Catalogue of Life  The Plant List Ver.1.1  WCSP  GBIF (High resolution specimens) Annotated checklist of Flowering plants of Nepal  India Biodiversity Portal  Wikipedia  Plant illustrations  palmpedia