Epimedium elatum Morr. & Decne., Ann. Sci. Nat., Bot. II, 2: 356 1834. (syn: Epimedium hydaspidis Falc.);
.
N. Pakistan to W. Himalaya as per POWO;
---
Erect perennial herbs, about 50-140 cm tall. Rhizome short, creeping, scaly, about 3-5 mm. Stems solitary, glabrous, base squamate. Leaves ternately compound, 2-3 ternate, 15-30 cm across, leaflets ovate-cordate, 1.5-7 x 1.2-3.5 cm across, margin spinous-dentate, apex acute with spinous tip, oblique, chartaceous, submembranous, petiole base swollen, about 8-10 cm long, stipulate. Inflorescences panicle, glabrous or grandular, about 20-30 cm long. Flowers bisexual, yellowish white, pedicelss filiform, 0.5-2 cm long, bracts minute, sepals 8 in 2 series, inner series sepals petaloid, ovate lanceolate, apex acute, about 1-2 mm long, petals 4, opposite to the sepals, about 2-3 mm long. Stamens 4, opposite to petals, about 5 mm long, anther-locules opening by recurved oblong valves, linear, about 1.5 mm long, filaments almost equal to the ovary, ovary simple, solitary, linear, ovules 5-15, style slender, peristant, stigma dilated, Fruits short capsules, 2 valved, unequal, about 5-10 mm across. Seeds 2-3, with fleshy aril, smooth, about 2 mm across, dull black.
Temperate forests, altitude about 2000-3000 m.
Local Distribution: Jammu & Kashmir.
(Attributions- Ganeshaiah, K. N., UAS, Bangalore, India.; Kailash, B. R., ATREE, Bangalore, India.; Royal Norwegian Embassy grants. Indian Bioresource Information Network (IBIN), Department of Biotechnology, New Delhi, India as per India Biodiversity Portal);
.
---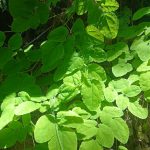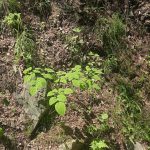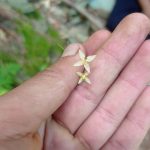 Epimedium elatum: 3 images.
New addition to eflora Of India.
Photo taken by Adil Abdullah
Location: Kupwara, Jammu and Kashmir. 
Identified by Shakir Ahmad and Adil Abdullah.
---
Thanks dear … Had collected lot of it from Dachhigam and elsewhere. Wish we had the luxury of cameras then.
---
Dr. Sajad lone from pattan baramullah had worked on this plant from uok.
---
---
.
References: POWO  Catalogue of Life  The Plant List Ver.1.1  IPNI  GBIF (High resolution specimens) Flora of Pakistan  FOP illustration  India Biodiversity Portal  Flickr  Plant illustration
Dwindling status of Epimedium elatum (Morren & Decne) and its geographical distribution in Kashmir Himalaya, India (2019)