Pavetta graciliflora Wall. ex Ridl., Fl. Malay Penins. 2: 100 1923. (syn: Pavetta graciliflora var. latifolia Craib);
.
Indo-China to Peninsula Malaysia: Andaman Is., Cambodia, Laos, Malaya, Myanmar, Nicobar Is., Thailand, Vietnam as per POWO;
.
---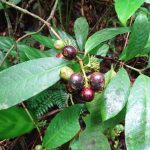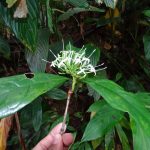 Photographs of Ixora grandifolia (Rubiaceae) shared: 2 images.
Botanical name: Ixora grandifolia Zoll. & Moritzi (Rubiaceae)
Photographer: Dr. M. C. Naik
Location: South Andaman Island, India
Habit: Shrubs, 1-2 m high
Habitat: Common in inland forest floor
Distribution: India (Andaman and Nicobar Islands), Myanmar, Thailand, Vietnam, Malaysia and Indonesia.
---
As the style is quite long, it may be some species of Pavetta.
---
Thank you for pointing this out. This means the photographer misidentified his collections. I shall be more careful in future in sharing such images with you. Yes, I. grandifolia has bigger leaves.
---
You may post. I always check before incorporating in our site now.
---
I could find the following species listed in Andamans:
Pavetta gleniei Thwaites ex Hook.f.
Pavetta graciliflora Wall. ex Ridl.
Pavetta indica L.
If we get high res. images, we can identify it.
---
Here are the high resolution images of the same.
Hope you can resolve the issue.
2 high res. images.
---
---
.
References: POWO  Catalogue of Life  The Plant List Ver.1.1  WCSP  Flickr  GBIF specimens- one, two, three and four (High resolution specimens) India Biodiversity Portal