Davallia solida var. fejeensis (Hook.) Noot., Blumea 39: 204 (1994) (syn: Odontoloma fijiensis J.Sm.; Davallia fejeensis Hook.; Davallia fijiensis Diels; Stenolobus fejeensis C.Presl) as per POWO;
.
Caroline Islands (Pohnpei), Fiji, Tubuai Islands (Rapa Iti) as per POWO;
.
Fiji (Viti Levu, Vanua Levu, Ovalau, Taveuni), Austral Isl. (Rapa Isl.), Micronesia (Pohnpei), Colombia (c) as per CoL;
.
---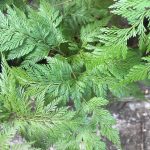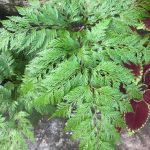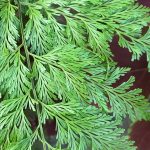 Plant for ID : 23/12/2020 : Kerala: 3 images.
Please help ID this plant. The photo was taken in a garden in Kerala in Dec, 2020.
Plant is about 40-50 cms tall.
---
Asplenium species ???   Only a guess.
---
I was confused about whether it is Davallia fejeensis or Onychium japonicum. Let me check Asplenium too.
---
It was a wild guess from me. Probably you are correct.
---
Onychium cryptogrammoides Christ ??
---
It's Davallia fejeensis – an exotic cultivated species that is widely grown world-wide. I have a plant here with me in Portugal, too – nice thing, related to, but a separate species from D. solida, not a variety of it as sometimes thought by a few people.
---
.
---
---
It is a fern, sorus structure is important to identify. Sori will be available in the ventral side in matured leaves (fronds)
---
Perhaps it is Asplenium fragrans
---
Thanks … for the ID…
---
It's one of the large Davallia species – not sure which one as there are rather a lot, probably oriental?
---
Thanks … for the feedback…
---
Is this also Davallia fejeensis as at Plant for ID : 23/12/2020 : Kerala ?
---
Yes, definitely fejeensis.  Not a shrub, not woody and 6 ft. tall!
---
Yes.  … is correct.  This  reminded me of a recent posting by … at the link provided by …
---
---
.
References:
POWO  Catalogue of Life (Davallia fejeensis Hook.) The Plant List Ver.1.1   Wikipedia  missouribotanicalgarden  houseplantsexpert