Viola elatior Fries, Novit. Fl. Svec. ed. 2: 277 1828. (Syn: Viola canina var. montana (L.) Fr.; Viola danubialis Borbás; Viola erecta Gilib.; Viola fedtschenkoana W.Becker; Viola hornemanniana Schult.; Viola montana DC.; Viola montana L.; Viola persicifolia Schreb.; Viola procera Pall. ex Ledeb.; Viola stipulacea Hartm.; Viola subpubescens Borbás);
.
Europe to Xinjiang and W. Himalaya: Altay, Austria, Belarus, Bulgaria, Central European Rus, Czechoslovakia, East European Russia, France, Germany, Greece, Hungary, Italy, Kazakhstan, Kirgizstan, Krym, North Caucasus, Northwest European R, Pakistan, Poland, Romania, South European Russi, Sweden, Switzerland, Tadzhikistan, Transcaucasus, Ukraine, Uzbekistan, West Himalaya, West Siberia, Xinjiang, Yugoslavia as per POWO;
.
---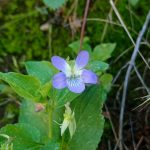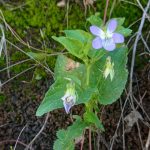 Identification request for this Viola sp. From kupwara, J&K.: 2 images.
Photo by Adil. Abdullah
---
Viola elatior Fries Syn : Viola fedtschenkoana W.Becker ??
Unique with flowers from stems !
---
Yes matched sir. Thank you.
---
---
.
References: POWO  Catalogue of Life  The Plant List Ver.1.1  IPNI  GBIF (High resolution specimens) Flora of China  FOC illustration  Wikipedia  Wikimedia Commons  backyardgardener  Research Gate