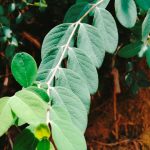 I'd requested 2: Location: Rajouri j and k Habit: Shrub: 1 high res. image.
Segregating same subject posts.
---
Seems Anogeissus acuminata
---
Difficult to say with the only posted image.
However, I think it looks different as per images at Anogeissus acuminata (Roxb. ex DC.) Wall. ex Guill. & Perr.  and also no distribution as per POWO.
---
Do you have detailed images ?
If so, pl. post.
---