Berberis wilsoniae Hemsl., Bull. Misc. Inform. Kew 1906: 151 1906. (syn: Berberis bodinieri H.Lév.; Berberis coryi H.J.Veitch; Berberis favosa W.W.Sm.; Berberis heteropsis Ahrendt; Berberis parvifolia Sprague; Berberis stapfiana C.K.Schneid.; Berberis subcaulialata C.K.Schneid.);
.
SE. Tibet to S. Central China and N. Myanmar: China South-Central, Myanmar, Tibet as per POWO;
.
---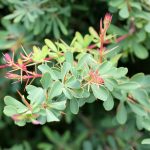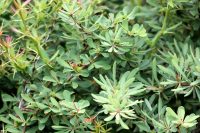 Berberis wilsoniae from SFO Botanical Garden-05072021-2: 2 images- 1 high res.
Berberis wilsoniae Hemsl.
Chinese plant grown in SFO Botanical Garden, California, photographed on 2-6-2019
---
---
.
References:
POWO  Catalogue of Life  The Plant List Ver.1.1  IPNI  GBIF (High resolution specimens) Flora of China  Wikipedia  Wikimedia Commons  Useful Tropical Plants