Brachiaria reptans (L.) C.A.Gardner & C.E.Hubb., Hooker's Icon. Pl. 34: t. 3363 1938. (syn: Brachiaria balansae Henrard; Brachiaria prostrata (Lam.) Griseb.; Brachiaria reptans (L.) C.A.Gardner & C.E.Hubb.; Brachiaria reptans var. hispida Basappa & Muniy.; Digitaria umbrosa (Retz.) Pers.; Echinochloa reptans (L.) Roberty; Echinochloa subcordata Roem. & Schult.; Panicum aurelianum Hale ex Alph.Wood; Panicum barbipedum Hayata; Panicum brachythyrsum Peter; Panicum caespitosum Sw.; Panicum calaccanzense Steud.; Panicum extensum Desv.; Panicum grossarium L.; Panicum insulare Steud.; Panicum nilagiricum Steud.; Panicum parvum Buse; Panicum patulum Mez; Panicum procumbens Nees; Panicum prostratum Lam.; Panicum prostratum var. pilosum Eggers; Panicum reptans L.; Panicum sieberi Link; Panicum subcordatum (Roem. & Schult.) Roth; Panicum taitense Steud.; Panicum umbrosum Retz.; Panicum virescens Poir.; Setaria subcordata (Roem. & Schult.) Kunth; Setaria umbrosa (Retz.) P.Beauv.; Urochloa reptans var. glabra S.L.Chen & Y.X.Jin);
.
Arabian Peninsula, Afghanistan to Pacific: Afghanistan, Andaman Is., Bangladesh, Cambodia, Caroline Is., China South-Central, China Southeast, Cook Is., Fiji, Gulf States, Hawaii, India, Jawa, Lesser Sunda Is., Malaya, Maluku, Marianas, Marquesas, Marshall Is., Myanmar, Nansei-shoto, Nepal, New Caledonia, New Guinea, Nicobar Is., Northern Territory, Pakistan, Philippines, Queensland, Samoa, Saudi Arabia, Society Is., Solomon Is., Sri Lanka, Sulawesi, Sumatera, Taiwan, Thailand, Tonga, Vietnam, Wallis-Futuna Is., West Himalaya, Western Australia, Yemen; Introduced into: Alabama, Belize, Benin, Bermuda, Brazil West-Central, Cameroon, Christmas I., Colombia, Comoros, Costa Rica, Cuba, Dominican Republic, Egypt, El Salvador, Florida, French Guiana, Guatemala, Guyana, Haiti, Honduras, Jamaica, Kenya, Leeward Is., Louisiana, Madagascar, Maryland, Mauritius, Mexico Central, Mexico Gulf, Mexico Northeast, Mexico Northwest, Mexico Southeast, Mexico Southwest, Mozambique, Netherlands Antilles, Nicaragua, Puerto Rico, Rodrigues, Réunion, Somalia, Sudan, Tanzania, Texas, Togo, Trinidad-Tobago, Venezuela, Venezuelan Antilles, Windward Is. as per POWO;
.
---
Annuals. Culms 12-35 cm long, creeping, rooting at the nodes; nodes sparsely bearded. Leaves 1.5-6.5 x 0.3-0.8 cm, lanceolate, base rounded, apex acuminate; sheaths to 2.5 cm long, ciliate on one margin; ligule a row of hairs. Panicles 2.5-5.5 cm long, terminal; racemes 3-6 in number, alternate, 1-3.5 cm long. Spikelets 1.5-2 mm long, elliptic, acute; pedciels c. 1 mm long. Lower glume 0.5-1 mm long, obovate,1-3-nerved. Upper glume 1.5-2 mm long, ovate, acute, 5-nerved. Lower floret empty. Upper floret bisexual. First lemma 1.5-2 x 1 mm, broadly ovate, acute, 7-nerved. Palea 1.5-2 x 1 mm, ovate, 2-keeled, hyaline. Second lemma c. 1 x 1 mm, ovate, mucronate, crustaceous, rugulose. Palea c. 1 x 1 mm,ovate, crustaceous, 2-keeled. Stamens 3. Stigmas purple, plumose.
Flowering and fruiting: July-November
Degraded moist deciduous forests, also in the plains
(Attributions- Dr. N Sasidharan (Dr. B P Pal Fellow), Kerala Forest Research Institute, Peechi as per India Biodiversity Portal)
.
---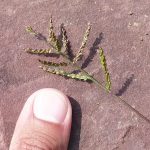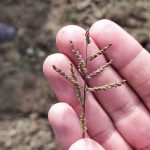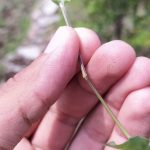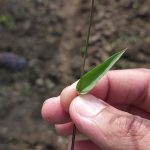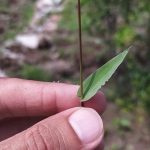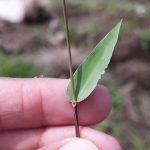 Need help with id of little tiny grass: 6 images- 5 high res. images.
Bhopal; black soil; 4/7/2021
---
Brachiaria
---
I agree with …
It is possibly B.ramosa. pl check: https://efloraofindia.com/2011/04/10/urochloa-ramosa/. This is a common weed here.
---
Brachiaria reptans
---
---
.
References: POWO  Catalogue of Life  The Plant List Ver.1.1  WCSP  IPNI  GBIF (High resolution specimens) Flora of Pakistan  Annotated checklist of Flowering plants of Nepal  Flora of peninsular India India Biodiversity Portal  Kerala plants  Plant illustrations  Useful Tropical Plants  Idao  CABI  Lucid Central