Sinapis arvensis L. (syn: Brassica arvensis (L.) Rabenh.; Brassica arvensis var. orientalis (L.) Farw.; Brassica arvensis var. schkuhriana (Rchb.) Thell.; Brassica barbareifolia Ball; Brassica kaber (DC.) Wheeler; Brassica kaber var. orientalis (L.) Scoggan; Brassica kaber var. pinnatifida (Stokes) L.C.Wheeler; Brassica kaber var. schkuhriana (Rchb.) L.C.Wheeler; Brassica kaber var. stricta (Celak.) Shinners; Brassica sinapis Vis.; Brassica sinapistrum Boiss.; Brassica xinjiangensis Y.C.Lan & T.Y.Cheo; Crucifera sinapistra E.H.L.Krause; Napus agriasinapis K.F.Schimp. & Spenn.; Raphanus arvensis (L.) Crantz; Raphanus orientalis (L.) Crantz; Rhamphospermum arvense (L.) Andrz. ex Besser; Rhamphospermum orientale (L.) Andrz.; Sinapis arvensis f. orientalis (L.) D.Löve & J.-P.Bernard; Sinapis arvensis var. orientalis (L.) W.D.J.Koch & Ziz; Sinapis arvensis var. pinnatifida Stokes; Sinapis arvensis var. schkuhriana (Rchb.) Hagenb.; Sinapis hispida Balb.; Sinapis incana Thuill.; Sinapis kaber DC.; Sinapis mesopotamica Spreng.; Sinapis orientalis L.; Sinapis polymorpha Geners. ex Schult.; Sinapis retrohirsuta Besser ex Steud.; Sinapis retrohispida Boreau; Sinapis schkuhriana Rchb.; Sinapis schlosseri Heuff. ex Nyman; Sinapis taurica Fisch.; Sinapis torosa Gilib.; Sinapis villosa Mérat; Sinapistrum arvense (L.) Spach);
.
Temp. Eurasia, N. Africa to Arabian Peninsula: Afghanistan, Albania, Algeria, Altay, Austria, Azores, Baleares, Baltic States, Belarus, Belgium, Bulgaria, Central European Rus, Corse, Cyprus, Czechoslovakia, Denmark, East Aegean Is., East European Russia, Egypt, France, Germany, Great Britain, Greece, Gulf States, Hungary, Inner Mongolia, Iran, Iraq, Italy, Kamchatka, Kazakhstan, Khabarovsk, Kirgizstan, Krasnoyarsk, Kriti, Krym, Libya, Madeira, Magadan, Mongolia, Morocco, Netherlands, North Caucasus, Northwest European R, Norway, Oman, Pakistan, Palestine, Poland, Portugal, Primorye, Romania, Sardegna, Saudi Arabia, Sicilia, Sinai, South European Russi, Spain, Sweden, Switzerland, Tadzhikistan, Transcaucasus, Tunisia, Turkey, Turkey-in-Europe, Turkmenistan, Ukraine, Uzbekistan, West Siberia, Xinjiang, Yugoslavia; Introduced into: Alabama, Alaska, Alberta, Argentina Northeast, Argentina South, Arizona, Arkansas, Bahamas, Bermuda, Brazil South, Brazil Southeast, Brazil West-Central, British Columbia, Buryatiya, California, Cape Provinces, Chita, Colorado, Connecticut, Crozet Is., Cuba, Delaware, District of Columbia, Dominican Republic, Finland, Florida, Free State, Føroyar, Galápagos, Georgia, Greenland, Guyana, Haiti, Iceland, Idaho, Illinois, Indiana, Iowa, Ireland, Irkutsk, Kansas, Kentucky, Kerguelen, Korea, KwaZulu-Natal, Labrador, Leeward Is., Louisiana, Maine, Manitoba, Maryland, Massachusetts, Michigan, Minnesota, Mississippi, Missouri, Montana, Nebraska, Nevada, New Brunswick, New Hampshire, New Jersey, New Mexico, New South Wales, New York, Newfoundland, North Carolina, North Dakota, North European Russi, Northern Provinces, Northwest Territorie, Nova Scotia, Ohio, Oklahoma, Ontario, Oregon, Paraguay, Pennsylvania, Prince Edward I., Puerto Rico, Queensland, Québec, Rhode I., Saskatchewan, South Australia, South Carolina, South Dakota, Sudan, Tasmania, Tennessee, Texas, Utah, Vermont, Victoria, Virginia, Washington, West Virginia, Western Australia, Windward Is., Wisconsin, Wyoming, Yukon, Zimbabwe as per POWO;
.
---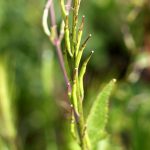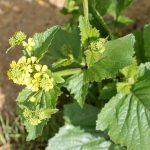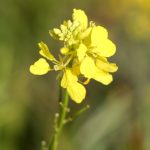 Sinapis arvensis from California-GS15072021-1: 3 images.
Sinapis arvensis Linn.
Differing from S. alba in ascending to erect thicker fruiting pedicels, linear fruit with terminal segment shorter than body, terete. not compressed, fruit valves glabrous or pubescent.
Photographed from Fremont, California, 29-3-2019
---
---
.
References: POWO  Catalogue of Life  The Plant List Ver.1.1  IPNI  Wikipedia  illinoiswildflowers  minnesotawildflowers