Euphorbia lakshminarasimhanii Nilesh V. Malpure, Prashant S. Raut, Arun N. Chandore, Bruce E. De Jong, Nordic Journal of Botany Volume 39, Issue 7 July 2021;
.
---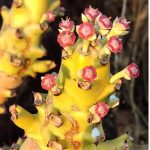 Euphorbia lakshminarasimhanii: 1 image.
A new succulent species of Euphorbia subg. Euphorbia sect. Euphorbia (Euphorbiaceae) has been found in Maharashtra, India and is here described as E. lakshminarasimhanii in honor of the late plant taxonomist Dr. P. Lakshminarasimhan. This novelity is easily distinguished from all previously known Indian species by its unique sparsely-branched pygmy habit, closely spaced and horizontally flattened tubercles, trapezoidal spine shields which are very close and overlapping at the apical region, giving a pouch like appearance, bifurcated spines completely separated by the leaf scar, leaves forming a crown, long bracts extending past the gland edge, coral red colored glands with indented margins, male florets 10 per fascicle, and capsule having globose cocci with thin keels. 
onlinelibrary
---
---
.
References:
Euphorbia lakshminarasimhanii: a new pygmy succulent species from Konkan region of Maharashtra, India– Nilesh V. Malpure, Prashant S. Raut, Arun N. Chandore, Bruce E. De Jong, Nordic Journal of Botany Volume 39, Issue 7 July 2021 (Abstract: Euphorbia lakshminarasimhanii (Euphorbiaceae), a new pygmy species belonging to the genus Euphorbia subg. Euphorbia sect. Euphorbia is described and illustrated from the Konkan region of Maharashtra, India. It is easily distinguished from all known Indian species by its unique sparsely‐branched pygmy habit, closely spaced and horizontally flattened tubercles, trapezoidal spine shields which are very close and overlapping at the apical region, giving a pouch like appearance, bifurcated spines completely separated by the leaf scar, leaves forming a crown, long bracts extending past the gland edge, coral red colored glands with indented margins, male florets 10 per fascicle, and capsule having globose cocci with thin keels.)