Chamaecostus cuspidatus (Nees & Mart.) C.D.Specht & D.W.Stev., Taxon 55: 158 2006. (syn: Costus cuspidatus (Nees & Mart.) Maas; Costus igneus N.E.Br.; Globba cuspidata Nees & Mart.);
.
E. Brazil as per POWO;
.
---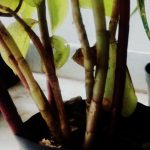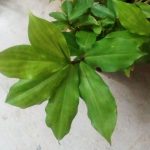 Ornamental Plant for ID, Hyderabad NAW-JUL21-01: 3 images.
Kindly identify this ornamental plant about 30cm in height, with leaves arranged spirally, leaves about 15 x 6 cm, segmented stems about 8 mm diameter.
---
Resembles Chamaecostus cuspidatus, need flowers for conformation,
---
Yes. I concur with … I have grown this plant in my house. Leaves are used as anti-diabetic. In Kannada it is called 'sakkare gida' and in english many call it as 'insulin plant'.
---
To me also appears close to Chamaecostus cuspidatus as per images at
indiamart
---
Flowers required for iD.
---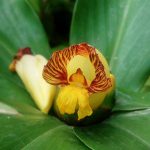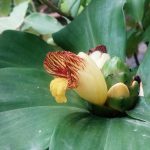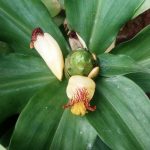 I found these yellow flowers on other specimens in the same nursery in Hyderabad a couple of days later.
3 images.
---
Costus igneus or insulin plant
---
What are  the differentiating characters between  the genus Chamaecostus & Costus.
---
---
.
References: POWO  Catalogue of Life  The Plant List Ver.1.1  WCSP  IPNI  Wikipedia  Amazon  Treesseller
A review on Insulin plant (Costus igneus Nak)– Prakash K. Hegde, Harini A. Rao, and Prasanna N. Rao- Pharmacogn Rev. 2014 Jan-Jun; 8(15): 67–72. (Abstract: Costus igneus Nak and Costus pictus D. Don, commonly known as Spiral flag, is a member of Costaceae and a newly introduced plant in India from South and Central America. It is a perennial, upright, spreading plant reaching about two feet tall, with spirally arranged leaves and attractive flowers. In southern India, it usually grows as an ornamental plant and its leaves are used as a dietary supplement in the treatment of diabetes mellitus. Recently, a number of researches have been carried out to evaluate the anti-diabetic potential of this plant. Besides, it has been proven to possess various pharmacological activities like hypolipidemic, diuretic, antioxidant, anti-microbial, anti-cancerous. Further, various phytochemical investigations reveal the presence of carbohydrates, triterpenoids, proteins, alkaloids, tannins, saponins, flavonoids, steroid, and appreciable amounts of trace elements. This work is an attempt to compile and explore the different pharmacological and phytochemical studies reported till date)