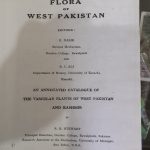 Flora of West Pakistan: 1 image.
I am attaching a photograph of a book named "flora of West Pakistan" If anybody have it's soft copy please let me know.
---
Flora of Pakistan in available online at endless.org
---
Currently unavailable
---
Hard copy we had in Kashmir University Botanical Department, and used frequently. I don't know if soft copy was ever developed
---
You can download it from
https://pahar.in/pahar/1972-flora-of-west-pakistan-annotated-catalogue-of-vascular-plants-of-west-pakistan-and-kashmir-by-stewart-s-pdf/
---
Thanks … for hunting out this very important document for Kashmir Flora.
---
You can also download two Volumes Royles Kashmir Flora from the same Website
Himalaya and Karakoram – Pahar
---