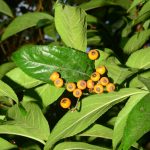 MS, Aug.,2021/13 Shrub or tree fo id.:
Location : Reiek, Mizoram
Date : 07-06-2018
Habit : Shrub or tree
Habitat : Wild

---
---
Rosaceae?
Pyracantha or Sorbus sp?. Some similarities I guess.
---
I tried matching with species posted in efloraofindia, but could not succeed.
Pl. give the species and keys in your book.
---
Sorry ? The genus : Pyracantha, Sorbus & Stranvaesia are not found in my books.
---
Pyracantha crenulata (D.Don) M.Roem. ??
---
I think it looks different from the images at P.crenulata.
---