Rhododendron pachypodum I. B. Balf. & W. W. Smith, Notes Roy. Bot. Gard. Edinburgh 9(44–45): 254–256 1916. (syn: Rhododendron pilicalyx Hutch.; Rhododendron rufosquamosum Hutch.; Rhododendron scottiatum Hutch.; Rhododendron supranubium Hutch.);
.
China (Yunnan) to NE. Myanmar: China South-Central, Myanmar as per POWO;
.
---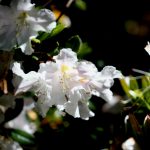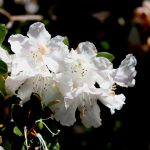 Rhododendron pachypodum from UCBG-GS29082021-3: 2 images.
Rhododendron pachypodum I. B. Balfour & W. W. Smith
Shrubs to small trees growing
in China and Myanmar,
with white 3-5 cm across flowers in clusters of 2-4. 
Photographed from University of California

Botanical Garden,

22-4-2019
---
---
.
References: POWO  Catalogue of Life  The Plant List Ver.1.1  Tropicos  GBIF (High resolution specimens) Flora of China  treesandshrubsonline