Epipogium aphyllum Sw.,  Summa Veg. Scand. 32 1814. (syn: Epipactis epipogium (L.) All.; Epipogium aphyllum f. albiflorum Y.N.Lee & K.S.Lee; Limodorum epipogium (L.) Sw.; Orchis aphylla F.W.Schmidt; Satyrium epipogium L.; Serapias epigogium (L.) Steud.);
.
Temp. Eurasia: Altay, Amur, Austria, Baltic States, Belarus, Belgium, Bulgaria, Buryatiya, Central European Rus, China North-Central, China South-Central, Czechoslovakia, Denmark, East European Russia, East Himalaya, Finland, France, Germany, Great Britain, Greece, Hungary, Inner Mongolia, Irkutsk, Italy, Japan, Kamchatka, Khabarovsk, Korea, Krasnoyarsk, Krym, Manchuria, Myanmar, Nepal, North Caucasus, North European Russi, Northwest European R, Norway, Pakistan, Poland, Primorye, Romania, Sakhalin, South European Russi, Spain, Sweden, Switzerland, Taiwan, Tibet, Transcaucasus, Turkey, Tuva, Ukraine, West Himalaya, West Siberia, Xinjiang, Yakutskiya, Yugoslavia as per POWO;
.
---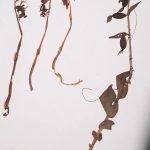 BK_HRBM_0039_Sep08_2021: 1 image.
Elevation: 2200 to 4200 masl
Family: Orchidaceae
State of plant: flowering and fruiting
I see two different species here. The three on the left hand side looks like Epipogium aphyllum but cant confirm the species.
One on the right hand side seems like Epipactis. Can't confirm the species
---
Yes the left 3 and right 1 with large fruit looks different.
---
Epipogium aphyllum is a rare plant.
---
---
,
References: POWO  Catalogue of Life  The Plant List Ver.1.1  WCSP  IPNI  GBIF (High resolution specimens) Flora of China  Flora of Pakistan  FOP illustration  Annotated checklist of Flowering plants of Nepal  Wikipedia  First Nature  Biological Flora of the British Isles  Re-discovery of Epipogium aphyllum, Swartz, the Ghost Orchid