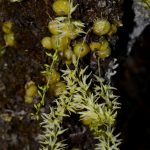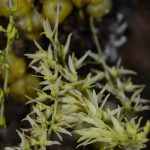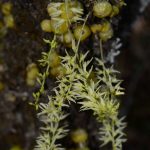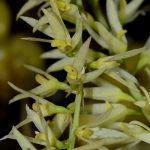 MS, Aug., 2021/06 Bulbophyllum sp. for id.: 4 images- 2 high res.
Location : Lurh tlang, Mizoram
Date : 19-03-2019
Habit : Epiphytic herb
Habitat : Wild
---
May I request you to pl. post a high res. image.
---
2 high res. images.
---
This looks close to Bulbophyllum thomsonii, but I need to see closeup of a flower.
---
There are two high resolution images out of the three.
Pl. check them, if already not seen.
---
Please check if the images match with the sketch here of thomsonii.
---
Appears close somewhat as per POWO and IOSPE photos but I do not see any ciliate portion as shown in the illustration posted by you.
---
May I request you to pl. post a close up of a flower.
---
1 close up image
---
I am a bit confused with this plant. I can see, this is not B. thomsonii, nor B. parviflorum.
I need some time.
---
It is somewhat close to Bulbophyllum polyrrhizum Lindl., more photographs/closeups required for confirmation.
---
I have looked at it many times and I cant find anything close to this.
To me this could be a new species.
---
Than you should both publish it together.
---
Its up to him, he found the plant. Need to prepare a good dissected flower plate and description.
I can certainly help even without authorship.
---
Ok, thanks, sirs
---
A feedback from … at our website at Bulbophyllum species- A new species?- Lurh tlang, Mizoram:
Bulbophyllum gambleiim
Hi, …,
I think you meant to say Bulbophyllum gamblei as in POWO, as I could not find match as per Bulbophyllum gambleiim on Google search.
---
I am 100% it is not gamblei. I thought I already told you before.
This has two leaves so it should belong to section Lemniscata of Bulbophyllum. As such it doesn't match with anything. But looks close to Bulbophyllum auricomum but the bulbs do not match.
It could very well be a new species but without proper dissection and plant in hand I cant make out.
With two leaves it doesn't belong to the other section Hirtula.
If possible please send me an email separately containing all dissection pics.
---
Any possibility of this being Bulbophyllum shanicum King & Pantling ?
---