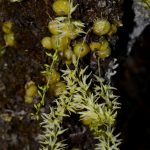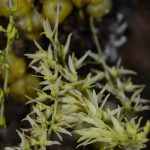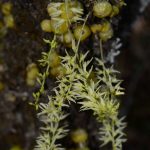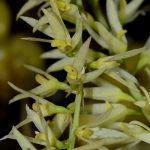 MS, Aug., 2021/06 Bulbophyllum sp. for id.: 4 images- 2 high res.
Location : Lurh tlang, Mizoram
Date : 19-03-2019
Habit : Epiphytic herb
Habitat : Wild
---
May I request you to pl. post a high res. image.
---
2 high res. images.
---
This looks close to Bulbophyllum thomsonii, but I need to see closeup of a flower.
---
There are two high resolution images out of the three.
Pl. check them, if already not seen.
---
Please check if the images match with the sketch here of thomsonii.
---
Appears close somewhat as per POWO and IOSPE photos but I do not see any ciliate portion as shown in the illustration posted by you.
---
May I request you to pl. post a close up of a flower.
---
1 close up image
---
I am a bit confused with this plant. I can see, this is not B. thomsonii, nor B. parviflorum.
I need some time.
---
It is somewhat close to Bulbophyllum polyrrhizum Lindl., more photographs/closeups required for confirmation.
---
I have looked at it many times and I cant find anything close to this.
To me this could be a new species.
---
Than you should both publish it together.
---
Its up to him, he found the plant. Need to prepare a good dissected flower plate and description.
I can certainly help even without authorship.
---
Ok, thanks, sirs
---