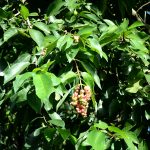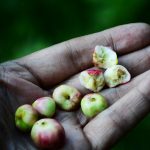 ID please: 2 high res. images.
ID, please.
The tree is about 40ft tall.
fruit is like berry type about 2 cm diameter and the test is bitter.
Please help me to identify this plant.
Place : Santiniketan, West Bengal.
Date of sighting : 9 September 2021
---
It appears quite strange.
---
Please note the glands at the junction of petiole and lamina indicating some species of Terminalia. The supposed fruits are plant galls only. 
Being an ex student of this University, I am more or less familiar with the plants of this place.
---
Some kind of 
Ardisia
 ?
Is it a wild species?
---
Yes it's Terminalia,
---