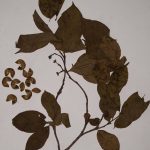 BK_HRBM_0037: 1 image.
Herbarium of a tree probably from Family: Theaceae.
Plant condition: Fruiting
Location: Lamjung on the way to Manang, central himalaya
No any Fresh plant photo related to this specimen.
Requesting ID
---
Any idea about the family?
---
the fruit is round, nearly spherical to oval with four chambers.
The Family could be Theaceae.
---
Could not find a match under 
Theaceae
 in efi site.
---