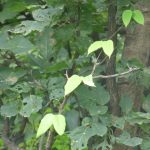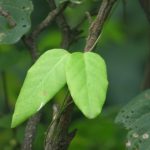 Climber for ID : Borgad Conservation Reserve : Nasik : 23SEP21 : AK – 035: 2 images.
A delicate climber at the base of Borgad in Nasik.
It was photographed from a distance.
---
Apocynaceae? Any white sap when broken ?
---
Since it was on a slope which was wet and slippery due to rains, I could not get closer.
---
OK !
---