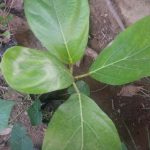 Need Id for this fig from Agra: 1 image.
Need Id for this fig
Doc:- 25 September 2021
Location:- Agra, U.P.
---
Seems Ficus hispida …, but need much information like figs and habit pics for conformation,
---
Sir It is small sapling and planted in our farm. Sir any chance of Ficus exasperata?
---