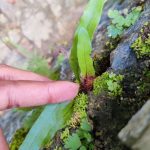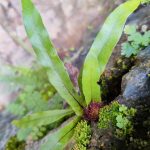 Requesting a fern id.: 2 high res. images.
2/10/2021
IISER campus adjoining Agasthyamalai biosphere reserve, Thiruvananthapuram.
Herb
Fern clumped up with strap shaped leaves, seen growing near rock crevices.
---
Any chance Pyrrosia
---
Sorry – an immature sterile plant – could be anything.  Try to find a large fertile plant. It may turn out to be Microsorum punctatum when better grown, or Asplenium phyllitidis – but at this stage there is nothing useful to see that identies it.
---