Gladiolus imbricatus L., Sp. Pl. 37 1753. (syn: Gladiolus apterus Klokov; Gladiolus crispiflorus Herb.; Gladiolus galiciensis Besser; Gladiolus hygrophilus Boiss. & A.Huet ex Baker; Gladiolus libanoticus Boiss. & Kotschy; Gladiolus marschallii Poir.; Gladiolus neglectus Schult.; Gladiolus raddeanus Trautv.; Gladiolus rossicus Pers.; Sphaerospora imbricata (L.) Sweet);
.
Central Europe to Caucasus: Baltic States, Belarus, Bulgaria, Central European Rus, Czechoslovakia, Germany, Greece, Hungary, Italy, Kazakhstan, Krym, North Caucasus, Northwest European R, Poland, Romania, South European Russi, Transcaucasus, Ukraine, West Siberia, Yugoslavia as per POWO;
.
---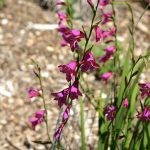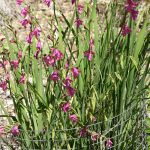 Gladiolus imbricatus from UCBG California-GS08102021-4: 2 high res. images.
Gladiolus imbricatus L.
Native of Portugal,
photographed from University of California Botanical Garden, 11-5-2014.
---
---
.
References: POWO  Catalogue of Life  The Plant List Ver.1.1  WCSP  IPNI  GBIF (High resolution specimens) Wikipedia