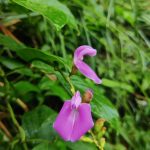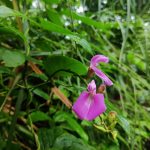 Requesting a shrub Id.:
3/10/2021
IISER campus adjoining Agasthyamalai biosphere reserve,Thiruvananthapuram.
A mauve colored flower with papilionaceous corolla. It smells pleasant. 
Found growing in the sides of footpaths.
---
Please check Fabaceae in FoI and efi.
---
This is Canavalia, as per images and details herein.
---
Canavalia ensiformis (L.) DC. ??
---
Difficult to say without fruits and with these images.
---