Pinguicula agnata Casper, Feddes Repert. Spec. Nov. Regni Veg. 67(1–3): 14 1963. (syn: Pinguicula agnata subsp. tamaulipasensis Hort. ex Casper);
.
Mexico (Guanajuato, Hidalgo, Queretaro, San Luis Potosi) as per CoL;
.
---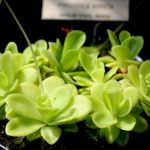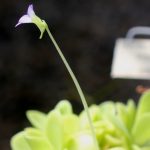 Pinguicula agnata from UCBG California-GS20102021-1:
Pinguicula agnata Casper
Insectivorous plant native of Mexico with blue to nearly white flowers.
Clicked from University of California Botanical Garden, 21-4-2019
---
---
.
References: POWO  Catalogue of Life  The Plant List Ver.1.1  IPNI  Wikipedia  carnivorousplantsociety  carnivorousplants  pinguicula