Fritillaria imperialis L., Sp. Pl. 303 1753. (syn: Fritillaria aintabensis Post; Fritillaria corona-imperialis Panz.; Fritillaria corona-imperialis Gaertn.; Imperialis coronata Dum.Cours.; Imperialis superba Mirb.; Lilium persicum E.H.L.Krause);
.
E. Central & SE. Turkey to NW. Iran, Afghanistan to W. Himalaya: Afghanistan, Iran, Iraq, Pakistan, Turkey, West Himalaya; Introduced into: Austria, Bulgaria as per POWO;
.
Common name: Kaiser's Crown, Crown imperial, Imperial fritillary • Kashmiri: Hapat posh ﺣﺎﭘﺖ ﭘﯘﺵ
.
---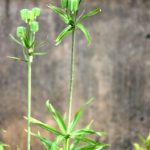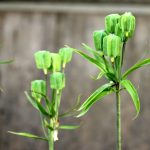 Fritillaria imperialis from Kashmir-GS21102021-1: 2 high res. images.
Fritillaria imperialis L.
One of the most beautiful species
at lower altitudes in Kashmir Valley,
could click it only in fruiting stage,
Srinagar, Kashmir, 6-5-2012.
Here is one in flowers from Flowers of India
---
.
References: POWO  Catalogue of Life  The Plant List Ver.1.1  WCSP  IPNI  Flora of Pakistan  FOP illustration  Flowers of India  India Biodiversity Portal  Wikipedia  Wikimedia Commons