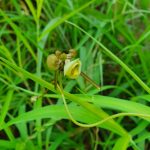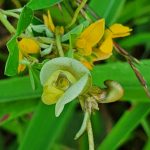 Climber for ID : Nasik : 04OCT21 : AK – 008: 2 images.
A wild climber seen last month (Sept.'21).
Vigna Species?
There seems to be 2 sp. No leaf images??
---
I will add leaf images seen in the same area.
---
Here are some more images.
3 images.
---
Both sets appear to be different from each other.
I could not nail down the id with these images as per comparative images at Vigna.
---
1st two posted images look similar to your post at Climber for ID : Way to Nasik : 12OCT21 : AK – 022
Last three images appear to be different.
---
Vigna umbellata (Thunb.) Ohwi & H.Ohashi ??
---
Looks different from images at Vigna umbellata
---