Koelreuteria paniculata Laxm., Novi Comment. Acad. Sci. Imp. Petrop. 16: 563 1772. (syn: Koelreuteria apiculata Rehder & E.H.Wilson; Koelreuteria chinensis (L.) Hoffmanns.; Koelreuteria japonica Hassk.; Koelreuteria paniculata var. lixianensis H.L.Tsiang; Koelreuteria paniculata f. miyagiensis H.Ohashi & Yu.Sasaki; Koelreuteria paullinoides L'Hér.; Paullinia aurea Radlk.; Sapindus paniculata (Laxm.) Dum.Cours.; Sapindus sinensis J.F.Gmel.);
.
China to Korea: China North-Central, China South-Central, China Southeast, Korea, Manchuria; Introduced into: Alabama, Austria, Bulgaria, Czechoslovakia, Delaware, Florida, Great Britain, Hungary, Idaho, Illinois, India, Indiana, Italy, Japan, Kansas, Kentucky, Louisiana, Maryland, Massachusetts, Missouri, New Jersey, New York, North Carolina, Ohio, Pennsylvania, Romania, Spain, Tennessee, Texas, Turkmenistan, Ukraine, Utah, Uzbekistan, Vietnam, Virginia, West Virginia, Yugoslavia as per POWO;
.
---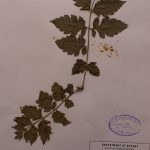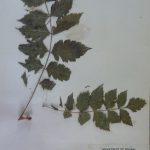 Koelreuteria paniculata from Kashmir-GS15112021-1: 2 images- 1 high res. + 1 pdf.
Koelreuteria paniculata
This beautiful tree is cultivated at few places in Kashmir differentiated from K. bipinnata and K. elegans in its unipinnate leaves, leaflets irregularly crenate to lobed.
Collected by me from near Nagin Lake and Regional Engineering College, both near Kashmir University Campus, Hazratbal, Kashmir.
Sharing two herbarium sheets. Hope to click fresh specimens, or my Kashmir friends can do so,
New for our database. I am also attaching my publication on this plant in 1974.
---
---
.
References: POWO  Catalogue of Life  The Plant List Ver.1.1  India Biodiversity Portal  Wikipedia