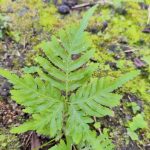 Requesting a fern id (15112021): 2 high res. images.
The fern is extremely beautiful. The leaves are intricately patterned and posses dentate incisions in the margin. The frond diverges into 5/6 leafy axes.
---
This is a highly immature baby sporeling of one of the many compound Pteris species.  Sporelings like this can't be identified – try to photograph an adult plant from nearby.  Observe how these little ones grow up through intermediate stages to the large adult plant and then photograph the full-sized adult..
Also you always need to say which State it is from (if in India?) and if possible approx. altitude).
---
It is from Kerala in South India.
---