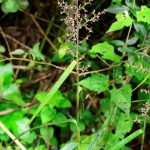 MS,Nov.,2021/31 Carex ? for id.: 1 high res. image.
Location : Ailawng
Date : 16-07-2018
Habit : Herb
Habitat : Wild
---
Scleria terrestris (L.) Fassett ??
---
Looks somewhat close to image at
https://commons.wikimedia.org/wiki/Category:Scleria_terrestris
https://inaturalist.nz/taxa/426638-Scleria-terrestris/browse_photos
But only Experts can confirm or otherwise.
---
What are the species listed in Flora of Mizoram?
---
Carex stramentita
---
Not available in Flora of Mizoram
---
Scleria cochinchinensis, S. hebecarpa & S.sumatrensis are recorded in Flora of Lushai Hills.
---
https://www.catalogueoflife.org/data/taxon/79Y5F
https://www.gbif.org/species/2712931
https://powo.science.kew.org/taxon/
---