Laportea canadensis (L.) Wedd., Ann. Sci. Nat., Bot., sér. 4, 1: 181 1854. (syn: Fleurya canadensis (L.) Benth.; Fleurya divaricata (L.) Gaudich.; Laportea canadensis var. pustulata (Liebm.) Wedd.; Laportea divaricata (L.) Lunell; Laportea pustulata Wedd.; Oblixilis canadensis (L.) Raf.; Oblixilis divaricatus Raf.; Sclepsion divaricatum Raf. ex Wedd.; Urtica canadensis L.; Urtica canadensis var. minor Hook.; Urtica divaricata L.; Urtica pustulata Liebm.; Urtica whitlowii Muhl.; Urticastrum divaricatum (L.) Kuntze; Urticastrum divaricatum var. canadense (L.) Kuntze; Urticastrum divaricatum var. ovatifolium Kuntze);
.
Central & E. Canada to Mexico: Alabama, Arkansas, Connecticut, Delaware, District of Columbia, Florida, Georgia, Illinois, Indiana, Iowa, Kansas, Kentucky, Louisiana, Maine, Manitoba, Maryland, Massachusetts, Mexico Central, Mexico Gulf, Mexico Northeast, Michigan, Minnesota, Mississippi, Missouri, Nebraska, New Brunswick, New Hampshire, New Jersey, New York, Newfoundland, North Carolina, North Dakota, Nova Scotia, Ohio, Oklahoma, Ontario, Pennsylvania, Québec, Rhode I., Saskatchewan, South Carolina, South Dakota, Tennessee, Vermont, Virginia, West Virginia, Wisconsin as per POWO;
.
---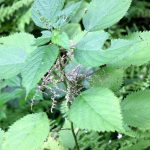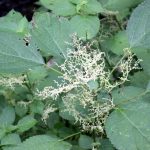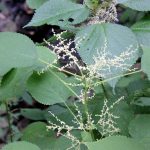 Laportea canadensis from Canada-06122021-1: 3 very high res. images.
Laportea canadensis clicked from Tiffany Falls, Hamilton, Canada, 12-8-2019.
---
---
.
References: POWO  Catalogue of Life  The Plant List Ver.1.1  Tropicos  IPNI
https://plants.ces.ncsu.edu/plants/laportea-canadensis/
https://gobotany.nativeplanttrust.org/species/laportea/canadensis/
https://www.minnesotawildflowers.info/flower/canadian-wood-nettle
https://www.wildflower.org/gallery/result.php?id_image=58809