Selaginella chrysorrhizos Spring, Mém. Acad. Roy. Sci. Belgique 24: 251 (1849) (syn: Selaginella lakkidiana Nisha, Nampy & Joby; Selaginella panchghaniana R.D.Dixit);
.
Indian Subcontinent to Indo-China: Assam, Bangladesh, East Himalaya, India, Laos, Myanmar, Nepal, Thailand, Vietnam as per POWO;
.
---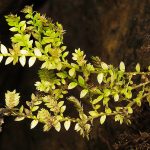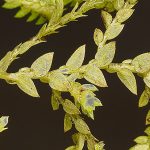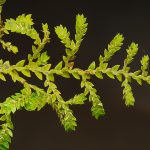 Selaginella sp for id: 3 images.
Location: South-west Maharashtra, Western ghats.
Date: Jan end 2022
Habitat: Wet rocks near waterfall. 
Habitus- growing laterally from rockface. Size 6cm.
I could not find any with strobili. Is it possible to id on leaf structure and arrangement alone, considering the distribution ?
---
What fantastic, superb photos! – best
Selaginella
photo I've seen anywhere,
clearly shows aristate median leaves and a very narrow pale margin to leaves, plus of course the strongly dimorphic sporophylls
(might need one more of a strobilus from beneath to see cilia etc.?). How did you take the photos and what camera?  If only others could take such good photos of
Selaginella
– you deserve a prize for excellent photographic service to Pteridology!
My first impression is
Selaginella chrysorrhizos
. It is in that rather ticky group, anyway. But tomorrow when I get more time I will study it more carefully and see if I still think that. I did not know of
S. chrysorrhizos
from Maharashtra, but it is in M.P. and in Kerala, so could well (should!) be there.
---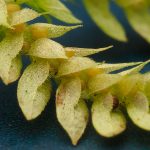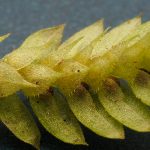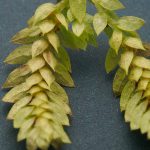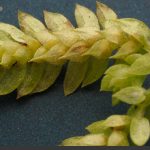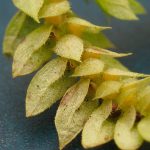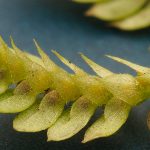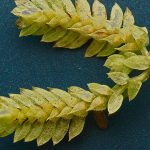 Thank you for the id, and your appreciation (though I don't feel that I really deserve it- I have a long way to go before I can take much better, clearer photos that show the exact features needed for the id).
I have added a few photos of a tropophyll from various angles that might show the exact features that you are looking for. (I am still trying to search for the exact meaning of 'dentate' and 'ciliate' features of the Macro and microsporophylls!)
PS- I am using a micro 4/3rd Olympus camera,with macro lens. The difference comes from using a good flash diffuser.
7 images.
---
PS- please read Strobilus instead of tropophyll.
---
Ah yes, I did already!  Not to worry, I often get muddled with terms too!
---
Well the lighting is superb – most flash pictures don't show things all that well, against a dark background.
About teeth, dentate means tootherd, the sides of the tooth meet at an acute apical pint, denticulate just small versions of dentation; aristate are teeth which then have extended linear tips, like a spine; ciliate are long narrow hair-like projections from the margin.  Sometimes one gets slightly intermediate states, but generally they are readily distinguishable as different kinds of teeth etc.
A good, close photo of the underside of a strobilus should show the cilia or lack of them on megasporophylls and microsporophylls in these dimorphic strobili  – and whether ciliate at their bases etc.
---
What place was it from – like the nearest small town?
---
It is from Amboli ghat.
---
---
.
References:
POWO  Catalogue of Life  GBIF (High resolution specimens) Flora of peninsular India  pteridoportal  Researchgate
A taxonomic revision of the genus Selaginella (Selaginellaceae) from Nepal– Aleksandr Petrovich Shalimov, Yu-Dong Wu, Xian-Chun Zhang- Phytokeys 133:1-76