Euphorbia vajravelui Binojk. & N.P.Balakr., Cact. Succ. J. (Los Angeles) 63: 229 1991.;
.
SW. India as per POWO;
---
Stout trees to 4 m tall; stems thick, succulent, flattened or 3-angled, 3-4 cm broad, glabrous; angles armed with paired black spines, 1-10 mm long. Leaves minute, 5mm long, ovate. Cyathea solitary or 2-5 together, 5-8 mm across, sessile above the spines along the angles of the stem, involucral lobes obtuse, glabrous, 4-glanded along the angles. Male florets fascicled in 4 or 5 bundles with 4-6 in each bundle; ovary glabrous; styles connate to the middle. Fruits not seen.
Flowering and fruiting: March-April
Rocky areas in evergreen forests
(Attributions: Dr. N Sasidharan (Dr. B P Pal Fellow), Kerala Forest Research Institute, Peechi as per India Biodiversity Portal)
.
---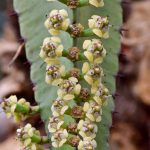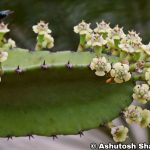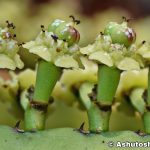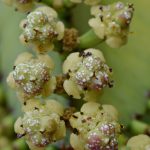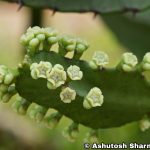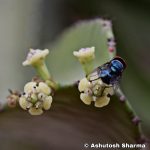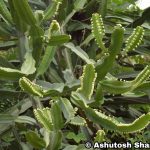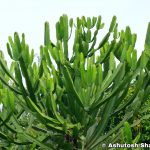 Euphorbia vajravelui Binojk. & N.P.Balakr. submission AS2 February22: 8 high res. images.
Here's one new South Western Ghat endemic Euphorbia species addition to our website.
Euphorbia vajravelui Binojk. & N.P.Balakr.
Common Name – Vajravelu's Spurge Tree 
Family – Euphorbiaceae
Species etymology – Named after Dr. E. Vajravelu (BSI)
Photographed
in cultivation
at TDU/FRLHT Garden,
Bengaluru, Karnataka
---
---
.
References:
POWO  Catalogue of Life  The Plant List Ver.1.1  WCSP  IPNI  GBIF (High resolution specimens) BSI Flora of India Checklist  Flora of peninsular India  India Biodiversity Portal  Wikipedia  Wikimedia Commons