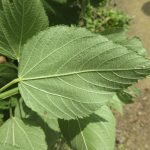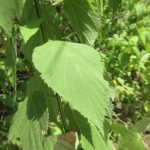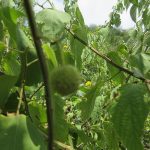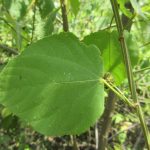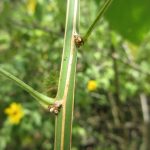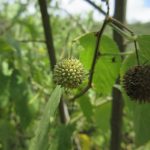 MYSTERY SHRUB 23rd Feb 2022…SS: 6 images.
I saw this shrub on Isla de la Plata. Ecuador.
Part of Machalilla National Park.
On 4th April 2019…just 6 pics
I have tried since than to id it…with no joy.
Please may I seek the assistance of the world wide experts that help here to id this very distinctive plant.
---
Appears to be from Lamiaceae like Phlomis?
---
However, I do not believe it is Lamiaceae.
The leaves of which emerge oppositely, each pair at right angles to the previous one (decussate) or whorled.
Mystery shrub has alternate leaves.
---
I have worked  very hard to try and id this myself. ..but I am not a botanist, just a keen amateur.
I loved those green square stems so interesting
To me the globose /spherical  heads of flowers on stalks remind me of a 3 shrubs/trees.
Button bush ………….. Cephalanthus …… ………….. in Rubiaceae… however leaves always seem to be opposite.
Paper mulberry ……… Broussonetia …………………. in Moraceae….. leaves are alternate.
London Plane tree …Platanus x hispanicain …. in Platanaceae.. I discounted these as they are just North hemisphere.
Broussonetia so far seems to be leading in the right direction.
In i naturalist  I found Broussonetia kazinoki…in Ecuador. But there is very little on www about it.
---
I still feel it may be from Lamiaceae.
Appears close to images at Leonotis nepetifolia (L.) R.Br., but peduncles are long in your images.
---
https://keyserver.lucidcentral.leonotis_nepetifolia.htm
---
Thank you for taking the time to look at my mystery shrub, and for your suggestion.
I do not believe that  Leonotis nepetifolia it the answer.
It is a plant that I am familiar with.
The flowers of which form in a circle surrounding the stem.
My pics show the developing seed head on a stalk. , pendulous from the square stem.
It was more woody,tree like than a herbaceous plant.
---
Any idea about the family?
---
I think it is not a Lamiacean member. Leaf is alternate here.
It is not close to Leonotis.
---
thank you for looking and reading my comments.
I may be an amateur… but I do have a fair amount of knowledge.
I discounted  Lamiaceae /and   Leonotis…with my reasons …so frustrating, no one seemed to believe me!
They will believe  you …..an Assistant Professor in a Department of Botany
---
It is not that nobody believed you.
But it was just a suggestion from my side (And no 'Botany' tag on me. Ha ha ha).
I explored Rubiaceae also, but could not go close to your images.
---
Leaves are not opposite so cannot be Lamiaceae !
---
I was thinking of Hyptis (on lines of Hyptis capitata) … but I think I am wrong.
The leaves look different.
---
I appreciate all help. Thank you.
Hyptis is in Lamiaceae.
I thought we had established that it cannot be in this..see several posts above.
This mystery plant was not a soft herbaceous plant.
It was a shrub/tree …..with strong woody square stems.
The round balls of seeds were quite large as were the leaves.
Apologies that there is nothing to give my pics a scale.
I was so sure it would be easy to id I only took these pics
---
Pic 3 seems to have some sort of gland in the axil of the leaves.
Does this lead to any further clues?
I have seen something slightly similar in Aleurites molaccana where 2 glands at the junction of the leaf base and petiole secrete a sweetish sap
---
I tried many permutations and combinations in my first attempt with Google Lens.
I got such glands in Vernicia montana as at
---