Aleuritopteris subdimorpha (C. B. Cl. & Bak.) Fraser-Jenk., Fern Gaz. 18(5): 223 2009. (syn: Aleuritopteris longipes Ching & S. K. Wu; Aleuritopteris pentagona Saiki; Aleuritopteris pseudoargentea S. K. Wu; Cheilanthes farinosa var. subdimorpha C. B. Cl. & Bak.; Cheilanthes pseudoargentea (S. K. Wu) K. Iwats.; Cheilanthes subdimorpha (C. B. Cl. & Bak.) Nayar & Kaur; Hemionitis subdimorpha (C. B. Clarke & Baker) Christenh.);
.
Himalaya to Indo-China, Sumatera: Assam, Bangladesh, East Himalaya, Laos, Myanmar, Sumatera, Thailand, Vietnam, West Himalaya as per POWO (Hemionitis subdimorpha (C.B.Clarke & Baker) Christenh.);
.
---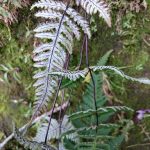 MS,April,2022/02 Hemionitis bicolor ? for id: 1 high res. image.
Location : Reiek, Mizoram
Habit : Terrestrial fern

Habitat : Wild
---
I'm afraid you may have been misled by the totally discredited …, who pushed Kew into accepting his POWO nonsense, before leaving his new-found interference with fern classification.
This is nothing to do with the genus Hemionitis which does not occur in India. That is about the same as calling Polystichum and Dryopteris all Dryopteris!  His placement of many cheilanthoid genera in Hemionitis went against all morphological and molecular evidence and is widely considered quite ridiculous, and all his misleading dabblings have been rejected by a good joint paper in Taxon. Please do not try looking in POWO again – it is a world-wide embarrassment for Kew where there is actually no Pteridologist.
This is of course an Aleuritopteris. You are partly right in thinking it similar to A. bicolor, but you will see that the scales at the base of the stipe (not shown) are concoloous reddish colour and wider than the very narrow bicolorous ones of A. bicolor. Also the stipe in yours is thicker and the lowest pinnae are not as wide, or with such very long lowest  basiscopic pinnules as in A. bicolor.
It is actually the N.E. Indian species,
Aleuritopteris subdimorpha
, which occurs from Nepal eastwards. Always a fern I like whenever I see it as it is so characteristic, so very
Subdimorpha!
A. bicolor
can also be there, but is a lot more delicate and more finely lobed – and the white farina beneath is not as thick and bright.
---
---
.
References:
Catalogue of Life  POWO  The Plant List Ver.1.1  Tropicos  IPNI  GBIF (High resolution specimens) India Biodiversity Portal  Research gate