Calceolaria thyrsiflora R. Grah., Edinburgh New Philos. J. 5: 372 1828. (syn: Calceolaria thyrsiflora var. alliacea Phil.; Calceolaria thyrsiflora var. dulcis Phil.; Fagelia thyrsiflora (Graham) Kuntze);
.
Central Chile as per POWO;
.
---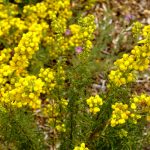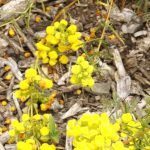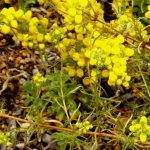 Calceolaria hypericina from UCBG-GS23032022-2: 3 very high res. images.
Calceolaria hypericina
a native of Chile,
photographed from University of California Botanical Garden, 26-6-2008
---
To me looks different as per
https://www.gbif.org/occurrence/gallery?taxon_key=8095625
http://www.rareplants.es/shop/product.asp?P_ID=9399
https://herbariovaa.org/taxa/index.php?taxon=78319&clid=1052
---
Calceolaria thyrsiflora Graham ??
---
Yes, appears close as per POWO.
---
---
.
References:
POWO  Catalogue of Life  The Plant List Ver.1.1