Knema tenuinervia W. J. J. O. de Wilde, Blumea 25: 405 (1979) ;
.
E. Nepal to China (S. Yunnan) and Myanmar: Assam, Bangladesh, China South-Central, East Himalaya, Myanmar, Nepal as per POWO;
.
---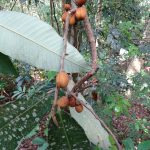 MS,March,2022/07 Knema sp. for id.: 1 very high res. image.
Location : Lungkulh, Mizoram
Altitude : ca 380 m
Date : 13-04-2016
Habit : Tree

Habitat : Wild
---
What are the keys?
---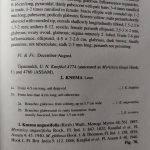 ---
May I request you to post the description of all these species to check further.
May be Knema erratica, as the fruits appear to be fascicled and less than 4 cm long (as estimated based on leaf size).
Also appears close to GBIF specimen- one and two.
---
---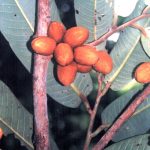 MS, April, 2022/08 Knema sp. for id.
: 1 image.
Location : Dampui, Mizoram
Date : unknown
---
Can I see the complete leaf?
May be Knema tenuinervia W.J. de Wilde subsp. tenuinervia W.J. de Wilde as per details and images at A taxonomic study on the diversity of Indian Knema Lour. (Myristicaceae) – Dipanwita Banik and Priyankush Protim Bora- June 2016 Taiwania 61(2):141-158
---
---
.
References:
POWO  Catalogue of Life  The Plant List Ver.1.1  Tropicos  IPNI  GBIF (High resolution specimens) Flora of China  FOC illustration  Annotated checklist of Flowering plants of Nepal  Useful Tropical Plants
A taxonomic study on the diversity of Indian Knema Lour. (Myristicaceae) – Dipanwita Banik and Priyankush Protim Bora- June 2016 Taiwania 61(2):141-158