Humboldtia unijuga Bedd., Icon. Pl. Ind. Or.: 22 (1870) (syn: Batschia unijuga (Bedd.) Kuntze);
.
S. India as per POWO;
.
Common name: Bark-Flower Humboldtia
.
---
Trees; to 8 m high, branches slender, solid, terete, strigose when young, glabrous and faintly suberose when mature. Leaves bifoliate, alternate; stipule lateral, 5-7 x 2.5 mm narrowly ovate, acute, prominently parallel veined, connate at base, intrapetiolar, glabrous, appendages absent; rachis 5-8 mm long, stout, glabrous; gland at the top; estipellate; leaflets subsessile, 4-15 x 2-5 cm, elliptic-lanceolate or lanceolate or narrowly ovate, base unequal, apex obtusely acuminate, margin entire, glabrous, coriaceous; lateral nerves 5-15, pinnate, looped at the margin forming intramarginal nerve, prominent; intercostae reticulate. Flowers bisexual, 1.5-2.5 cm long, crimson, in axillary as well as cauliflorus racemes; sterile bracts present at the base of racemes; peduncle pubescent; pedicel 5-10 mm long, finely brown pubescent; bracts ciliate, pubescent without; bracteoles 2, 4-5 x 1.5-2 mm, ovate, rounded at apex; calyx tube 8 mm long, obconical lined by the disc, lobes 4, pubescent, obovate, rounded at apex; petals 5, 10-15 mm long, obovate, crimson, narrowed at base, veined, glabrous; stamens 5, free, filaments 10 mm long, filiform; anthers versatile; staminodes absent; ovary 5-6 mm long, half inferior, stipitate, obliquely oblong, densely brown pubescent; style 8-10 mm long, filiform, glabrous, 8-10 mm long; stigma capitate. Fruit a pod 5-8 x 2-3 cm, compressed, oblong, deep red, veined; seeds 2-3.
Flowering and fruiting: December-March
Evergreen forests
Southern Western Ghats
(Attributions: Dr. N Sasidharan (Dr. B P Pal Fellow), Kerala Forest Research Institute, Peechi as per India Biodiversity Portal)
.
---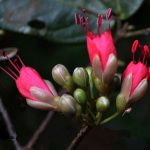 Above one image contributed by Dr. M. Sanjappa
---
---
.
References:
POWO  Catalogue of Life  The Plant List Ver.1.1  ILDIS  GBIF (High resolution specimens) Flora of peninsular India Flowers of India  India Biodiversity Portal  Wikimedia Commons