Allium triquetrum L., Sp. Pl. 300 1753. (syn: Allium medium G.Don; Allium opizii Wolfner; Briseis triquetra (L.) Salisb.; Nectaroscordum triquetrum (L.) Galasso & Banfi);
.
W. & Central Medit.: Algeria, Baleares, Corse, France, Italy, Morocco, Portugal, Sardegna, Sicilia, Spain, Tunisia; Introduced: Argentina Northeast, Azores, California, Canary Is., Cape Provinces, Falkland Is., Great Britain, Ireland, Madeira, New South Wales, New Zealand North, New Zealand South, Oregon, South Australia, Tasmania, Turkey-in-Europe, Victoria, Western Australia as per POWO;
.
---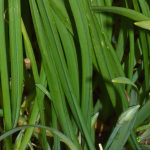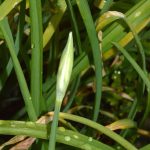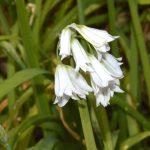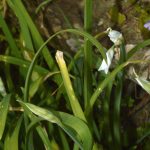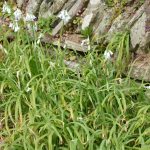 Allium triquetrum L: 6 very high res. images.
Location: Gorran Haven, St. Austell, UK
Date: 02 April 2022
Habit : Cultivated
---
Oh yes.. that is Allium triquetrum.
It is known in English as three-cornered leek.
The stems are triangular.. see my pics below.
It is a complete thug.
---
---
.
References:
POWO  Catalogue of Life  The Plant List Ver.1.1  WCSP  IPNI  Wikipedia