Orostachys japonica A. Berger, Nat. Pflanzenfam. (ed. 2) 18(a): 464 1930. (syn: Cotyledon japonica Maxim.; Cotyledon polycephala Makino; Orostachys erubescens Ohwi; Orostachys japonica var. erubescens Jankalski; Orostachys japonica f. polycephala (Makino) H.Ohba; Orostachys japonica var. polycephala (Makino) Jankalski; Orostachys kanboensis Ohwi; Orostachys polycephala (Makino) H.Hara; Sedum japonicola Makino; Sedum polycephalum (Makino) Makino);
.
E. China to Korea, S. Central & S. Japan: China North-Central, China Southeast, Japan, Korea, Manchuria as per POWO;
.
---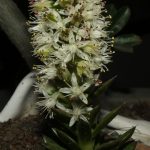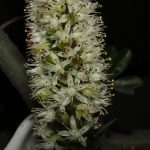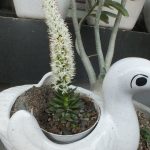 Potted Plant for id-Panipat:: NS April 2022: 4 images.
Please suggest id for this succulent plant, which was seen flowering in Panipat…
---
I think from Crassulaceae.
May be Sedum, Hylotelephium or related genus.
---
But I could not make out as yet..
---
This should be Rock Pine Orostachys japonica
---
Yes it is…
---
---
.
References:
POWO  Catalogue of Life  The Plant List Ver.1.1  Tropicos  IPNI  Flora of China  Wikipedia  Wikimedia Commons  succulents-and-bulbs