Artanema longifolium (L.) Vatke, Linnaea 43: 307 1882. (syn: Achimenes sesamioides Vahl; Artanema angustifolium Benth.; Artanema cabrae De Wild. & T.Durand; Artanema longiflorum Wettst.; Artanema sesamoides (Vahl) Benth.; Bahelia angustifolia (Benth.) Kuntze; Sesamum javanicum Burm.f.; Ourisianthus caeruleus Bonati);
.
Tropical Old World: Angola, Benin, Cambodia, Cameroon, Central African Repu, Congo, Gabon, Ghana, India, Ivory Coast, Liberia, Malaya, Myanmar, Nigeria, Philippines, Sri Lanka, Thailand, Togo, Uganda, Vietnam, Zaïre as per POWO;
.
Common name: Longleaf Koala Bells • Kannada: ನೀರ್ಮಲ್ಲಿ Neermalli • Malayalam: Kolivalan, Vathom-varetti, Bahel-chulli, Vayalchulli • Sanskrit: कोकिलाक्षा Kokilaksha, कोकिलाक्षः Kokilakshah, Iksrua • Tamil: நீர்மல்லி Neermalli
.
---
Under shrubs. Leaves opposite, to 20 x 8 cm, elliptic, acuminate, serrate, attenuate at base, glabrous; nerves to 6 pairs, distinct below; petiole short or absent. Racemes terminal, to 20 cm long; bracts leafy; bracteoles absent. Flowers sessile, to 25 mm long; calyx 12 mm long, campanulate, divided to the middle, lobes acuminate, glabrous; corolla 2.5 cm long, 2-lipped, deep violet, upper lip round or emarginate, lower lip 3-lobed, lobes orbicular; stamens 4, filaments of longer stamen curved or arched, with an orbicular basal appendage, anthers connate in pairs; ovary 2-furrowed, many-ovuled; style long, slender, stigma spathulate. Capsule 7 x 8 mm, depressed globose; seeds cylindrical, puberulus, brown.
Flowering and fruiting: August-December
Moist deciduous forests and grasslands
(Attributions: Dr. N Sasidharan (Dr. B P Pal Fellow), Kerala Forest Research Institute, Peechi as per India Biodiversity Portal)
.
---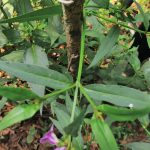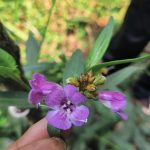 Requesting a Shrub id_190422-4: 2 high res. images.
Beautiful shrub with opposite, linear leaves. The flowers are purple occurring terminally.
Myristica swamp near Trivandrum
---
Something close to Leucophyllum frutescens (Berl.) I.M.Johnst. ??
---
Artanema sesamoides
---
---
.
References:
POWO  Catalogue of Life  The Plant List Ver.1.1  IPNI  GBIF (High resolution specimens) Flora of peninsular India  Flowers of India  India Biodiversity Portal  Kerala plants  Wikipedia  Useful Tropical Plants