Akebia quinata (Houtt.) Decne., Arch. Mus. Hist. Nat. 1: 195 1839. (syn: Rajania quinata Thunb. ex Houtt.; Akebia micrantha Nakai; Akebia quinata f. albiflora Y.N.Lee);
.
Central & E. China to Japan: China North-Central, China South-Central, China Southeast, Japan, Korea; Introduced: Alabama, Austria, Connecticut, Florida, Georgia, Indiana, Kentucky, Maryland, Massachusetts, Michigan, New Jersey, New York, New Zealand North, New Zealand South, North Carolina, Ohio, Pennsylvania, Virginia, West Virginia as per POWO;
.
---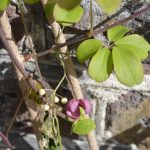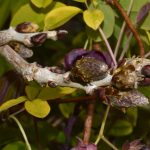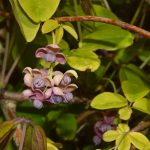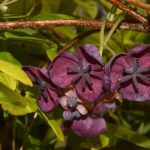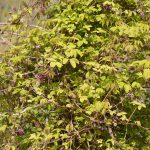 Akebia quinata (Houtt.) Decne.: 5 very high res. images.
Location: Eden Project, Cornwall, UK
Date: 03 April 2022
Habit : Cultivated
---
Agreed Akebia quinata.
Akebia are monoecious (separate male and female flowers on the same plant)
Seed pods are fab.
Needs more than one shrub to get cross pollination to get the pods.
Female flower see below.
Male flower…see below
My pics below.
---
.
References:
POWO  Catalogue of Life  The Plant List Ver.1.1  Wikipedia  Flickr