Protea obtusifolia Buek ex Meissn., Ann. Soc. Sci. Bruxelles 40(2): 84 1921. (syn: Protea calocephala Meisn.; Scolymocephalus calocephalus (Meisn.) Kuntze; Scolymocephalus obtusifolius Kuntze);
.
SW. Cape Prov. as per POWO;
.
---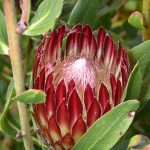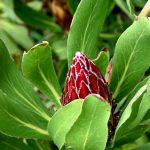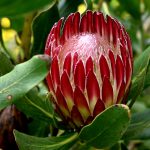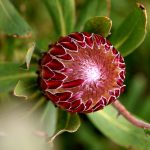 Protea obtusifolia from California-GS28042022-4: 4 very high res. images.
Another protea with beautiful flowers, Protea obtusifolia, commonly known as Limestone Sugarbush, differs from P. cynaroides in broader short-petioled leaves with obtuse apex, smaller heads (ca 10 cm across, as against up to 20 cm), erect inner bracts (as against spreading).
Photographed from San Francisco Botanical Garden, 2-6-2019. 
---
---
.
References:
POWO  Catalogue of Life  The Plant List Ver.1.1  Tropicos  IPNI