Staurogyne zeylanica (Nees) Kuntze, Revis. Gen. Pl. 2: 497 1891. (syn: Ebermaiera zeylanica Nees; Erythracanthus elongatus Dalzell & A.Gibson);
.
Indian Subcontinent, Andaman Islands: Andaman Is., Bangladesh, India as per POWO;
.
India (peninsular India), Sri Lanka, Andamans (North Andamans), Bangladesh as per CoL;
.
---
Nees in DC. Prodr. xi. 74 ; trailing branches pubes¬cent, leaves elliptic subobtuse narrowed at the base, spikes cylindric, bracts obovate slightly longer than the flowers, corolla 1/4-1/3 in. T. Anders, in Journ. Linn. Soc. ix. 451, excl. syn. E. glauca, T. Anders, in Thwaites Enum. 224, not in Nees. Erythracanthus elongatus, Dalz. & Gibs. Bomb. Fl. 184, not of Nees.
W. Deccan Peninsula and Ceylon ; Concan, Balzell, Stocks, &c. Ceylon ; Macrae, Thwaites.
Stem erect, short, with large leaves, and flowering runners with much smaller leaves. Leaves 3 by 1 in., subentire, sparsely hairy on both surfaces, or glabrate with nerves beneath pubescent ; petiole 1/2 in., or in the leaves of the lateral branches 0. Spikes 1-2 in., dense ; bracts 1/3 by 1/8 in., obtuse, apiculate, strongly 1-nerved ; bracteoles 1/3 in., linear-spathulate. Sepals 4, linear, rather shorter than the bracts ; the fifth rather broader, linear, subacute. Corolla, stamens, and capsule nearly as of E. glauca.
(Attributions: IBIS Flora (Flora of British India))
.
---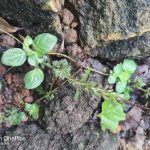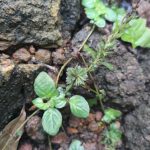 Requesting a herb ID_290422-3: 2 high res. images.
A small herb with a round leaved and inflorescence appears to spike up with packed flowers. Carpets the forest floor.
---
Pl. check
https://efloraofindia.com/2012/04/11/staurogyne/
---
This appears to be Staurogyne zeylanica as per POWO specimen and Wikimedia image.
---
.
---
Staurogyne zeylanica in FoPI:
Images at Staurogyne zeylanica in FoPI by Dinesh ji are not correct.
Look different from specimens of Staurogyne zeylanica in GBIF.
Pl. correct.
---
---
.
References:
POWO specimen  Catalogue of Life  The Plant List Ver.1.1  IPNI  IBIS Flora (Flora of British India) Kerala plants  Wikimedia image