Coelogyne assamica Linden & Rchb.f., Allg. Gartenzeitung 25: 403 1857. (syn: Coelogyne annamensis Rolfe; Coelogyne dalatensis Gagnep.; Coelogyne dichroantha Gagnep.; Coelogyne saigonensis Gagnep.; Coelogyne siamensis Rolfe; Cymbidium evrardii Guillaumin);
.
Bhutan to China (NW. Yunnan) and Indo-China: Assam, China South-Central, East Himalaya, Laos, Myanmar, Thailand, Tibet, Vietnam as per POWO;
.
---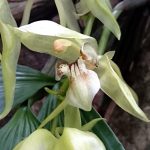 MS,May,2022/12 Coelogyne sp. for id.:
Location : Reiek, Mizoram
Habit : Epyphytic herb

Habitat : Wild
---
I thought I identified this plant!
Coelogyne assamica
---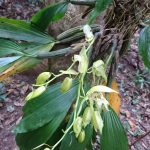 1 high res. image.
---
---
.
References:
POWO  Catalogue of Life  The Plant List Ver.1.1  WCSP  IPNI  GBIF (High resolution specimens) India Biodiversity Portal  Wikimedia Commons  IOSPE Photos
https://www.biolib.cz/en/taxon/id309134/
https://www.orchidroots.com/detail/information/?pid=44946&role=pub
http://coelogynes.com/Species%20Coelogyne%20assamica.html
https://www.orchideen-wichmann.de/en/orchids-a-z/seedlings-a-z/coelogyne-assamica.html