.
Best Images of 2015 posted by members of Efloraofindia
---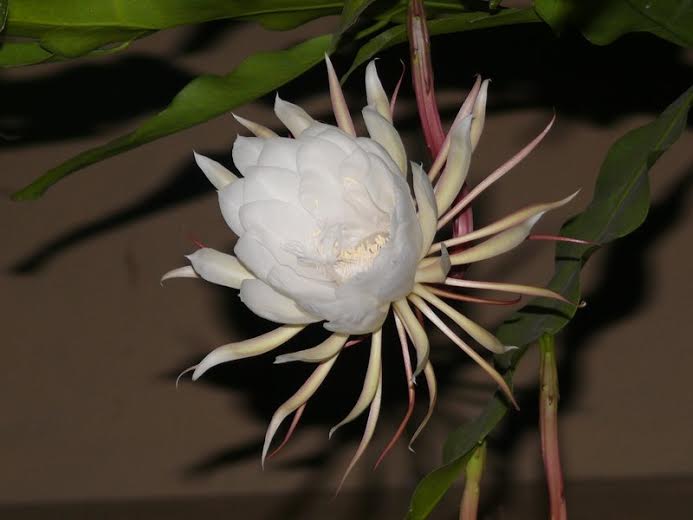 Dear friends,
Sharing a picture of this flower commonly known as Orchid Cactus or Night Blooming Cereus from my home garden in Nasik.
There were a total of 16 flowers that bloomed on that Full Moon Day, known as Adhik Aashad Poornima, all on one plant.
Date was 2nd July, 2015, time around 10.30 PM.
Aarti Khale
---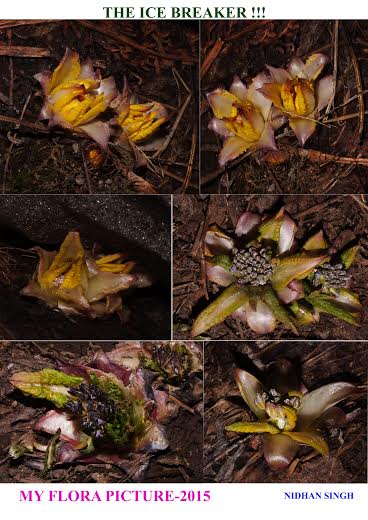 Dear All,
2015 was another year which gave me an opportunity to step into wilderness of mighty Himalayas. The programme was finalized, the team gathered at Panipat on May 22, 2015 to start a tour the next day. The flower hunting team was led by Dr. and Mrs. Gurcharan Singh with Dr. & Mrs. Gurdeep Singh Virdi from Delhi, Smita Raskar from Sawantwadi, myself and Dr. Balkar Singh from Panipat, Dr. Sunoj Kumar, Calicut, Mr. Viplav Ganger, Mumbai, Mr. Anurag Sharma, Ms. Medha Rao and Ms. Smitha Ramesh from Bengaluru. We had a stay for one night at Renuka Ji, a beautiful place in foothills. The next day tour ended up in a beautiful place amidst pines and deodars, the Mata Bhangyani Temple in Haripurdhar. We had the midway plant exploration and refreshment halts, all thoroughly enjoyable.
At the next stay point, Nauradhar, which formed our base camp for the next days, Dr. Anil Thakur joined the team. From here, the trekking towards Choordhar peak started early morning. Our senior most members joined us for initial few hours, and started back before noon. Out of nine members, me and Smita Ji took different path, unaware of the fact that we won't be able to converge before 7 km. We could get together only at Jamnala (Doosri) in the afternoon, where 7 members were waiting with refreshment, which was much needed. Smita Ji, Aunrag, Smitha and Medha decided to stay there for one night (which was a very wise decision indeed), to come back the next day.
Five of us started up trekking after 2:00 pm. This was really tough climb but we enjoyed it all and we reached Teesri at around 5:30 pm. We were spellbound on seeing high altitude flora especially Rhododendrons from the corner of a sharp cliff taking a semi-circular turn after Teesri. That was a quite a different world there, alpine floral elements started appearing. The path we took was a longer route, but supposed to have a gradual climb, instead of sharp edges from the other way. The things were not going to be as smooth as we assumed at first.
The problems started soon after we reached a point, lying ahead was a vast glacier, which we had not expected. It was long and slippery, and left us undecided for a while, what to do? The first glacier was crossed, with fear and terror (thanks to bamboo sticks in hand), we had a sigh of relief, but that was not the last hurdle. Many small  glaciers came our way, there was trouble in breathing, a really serious cause of concern. Darkness aggravated, skidding could happen, glaciers started reappearing more vigorously.
Air was getting diluted of oxygen, daylight was almost gone, energy getting down, and still no sign of our destination anywhere around.  I was (may be all of us) repenting on the decision to complete the trek in one day, we could have stayed at Teesri. To further worsen the things, rain and snow started falling, thunder and lightning joined, it got absolutely dark, still no sign of the place we were supposed to reach. We tried to console each other regarding the distance remaining to be covered, though no one was certain. We could not afford to loose hope and kept on leaping through snow, mud, darkness and silence. Finally we saw a few people with torches way up, assuring us that we have not lost our way. Ultimately, we reached the place, shivering and wet, tired and trembling with hunger. We got the meals as per tradition of the place, and a very good stay (for which I am grateful to Sh. Babu Ram, Manager, Sewa Samiti, Choordhar).
Now I come to my Flora Picture of the year-2015. In the morning, when we started back trek, through the temple, I saw a strange yellow coloured flower (as it appeared from distance). I got near and saw this in curiosity. This took me quite a while, and observing few more individuals in advanced stages, to understand that this is the "Ice Breaking Primrose" which pierces through the snow. I thought this is apt picture for me to share as FLORA PICTURE of 2015.
Nidhan Singh
---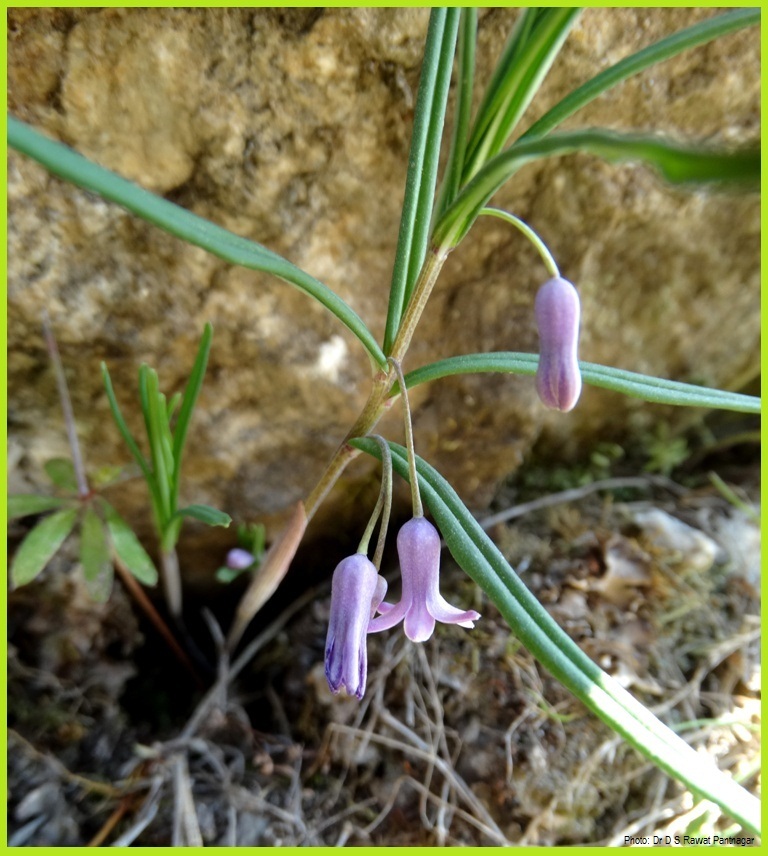 Polygonatum graminifolium Hook. 'Grass-leaved Solomon's Seal' (Asparagaceae)
This tiny monocot herb is a denizen of sub alpine and alpine zones of Western Himalaya in the elevation range of 3300-3800 m. I first saw this species way back in June 1994 while surveying Kedarnath area. It was growing over a large boulder in a crevice and without any consideration for its rarity in nature I collected both flowering individuals seen there. I hope it still survives there as the location of this boulder was not affected by the flash flood of June 2013.
Nearly after two decades, I saw this tiny friend once again in Badrinath area, on way to Vasudhara, during June 2015. Growing below a small boulder along the trekking rout it was raising the cluster of few leaves and flowers to unfold its beauty to outer world. This time I was careful to allow him all the life and took only the photographs, not the specimens.
Google search indicates that it is less photographed species in its homeland (Western Himalaya) and most of its photographs are from nurseries of Europe.  On account of its rarity and endemism it was included in '1997 IUCN Red List of Threatened Vascular Plant Species'. I now know few of its populations where this tiny herb of 5-10 cm is struggling hard to survive. Interestingly, one of my research students also photographed this species in Valley of Flowers area, Uttarakhand in June 2015 almost in the same duration when I saw it in Badrinath area.
DSRawat Pantnagar
Dr D.S.Rawat
---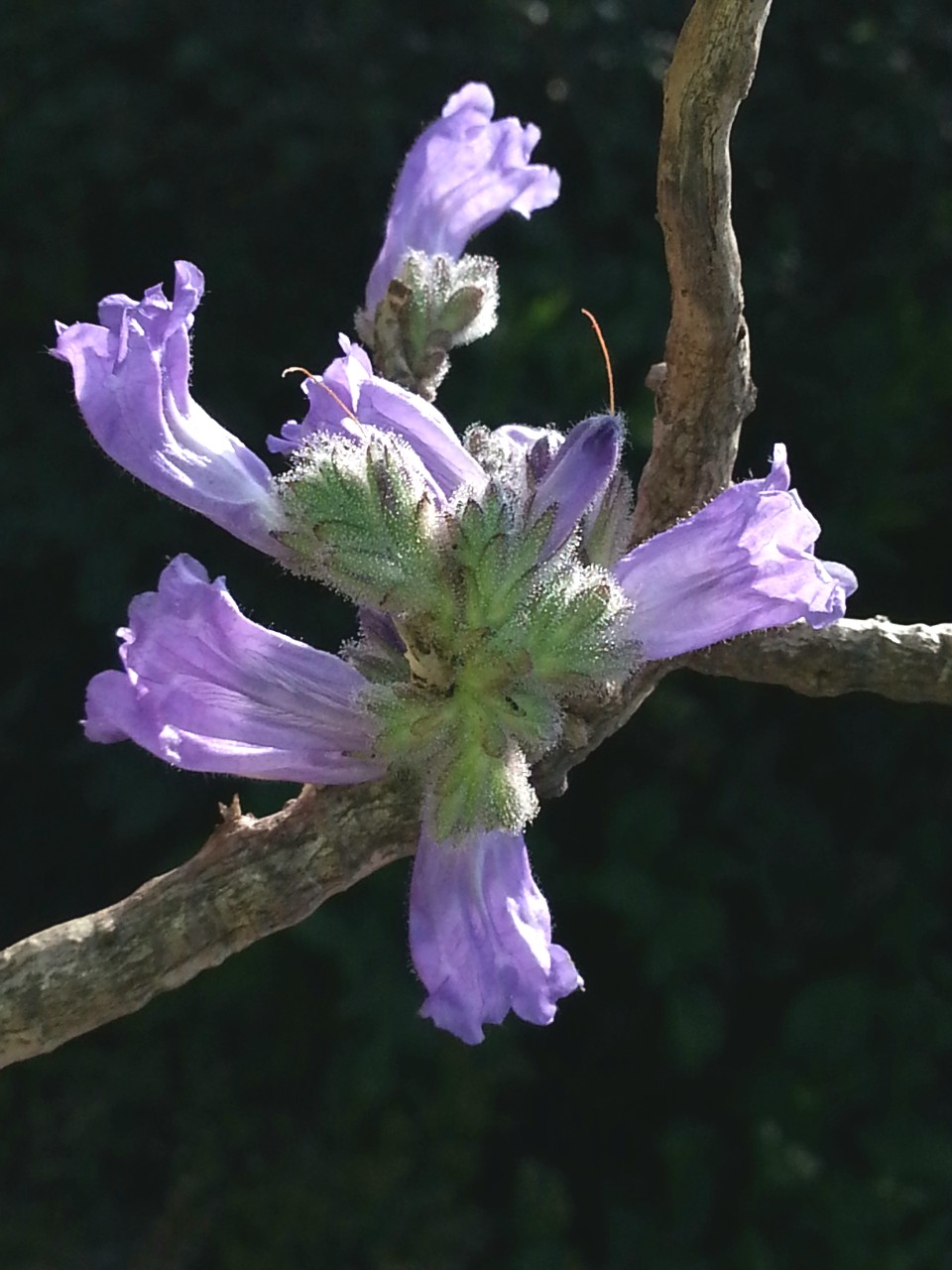 Shrubs of Strobilathus group are intriguing in respect of phenoloy. Remembering flowering years of several species is extremely interesting. Supushpa scrobiculata, a shrub occupying steep rocky cliffs of western ghats has a very special place in my mind due to its rareness, inaccessible locations and due to unknown lap between flowering years. I remember having crawled over the top of a cliff to take some bad pictures of its flowers in the year 2000. Later I kept visiting a spot in Mahabaleshwar each year in October only to find leafy twigs winking at me.
This year too I reached the not so difficult spot religiously and was delighted to watch leafless braches greeting me with abundant blue blooms.
I do not know how I missed the rare bloom in 2008 if the cycle was of 8 years.
I hope the plant shows me its bloom again sometime to let me guess its cycle.
Shrikant Ingalhalikar
---
I was after this orchid Flickingeria nodosa for last four years
i have visited plant so many times but could not find even buds for last four years
but this year on one fine day i could see buds,i was determined this year i will not miss to see flowers  so i use to travel 60kms from home every day for 8 days waiting to buds to bloom
& finally buds opened,flowers smiled at me
i was on the top of the earth, danced with joy
i have taken so many pictures
love love love to see orchids
I hope you will also love my orchid
Thanks
Regards
Smita Raskar
---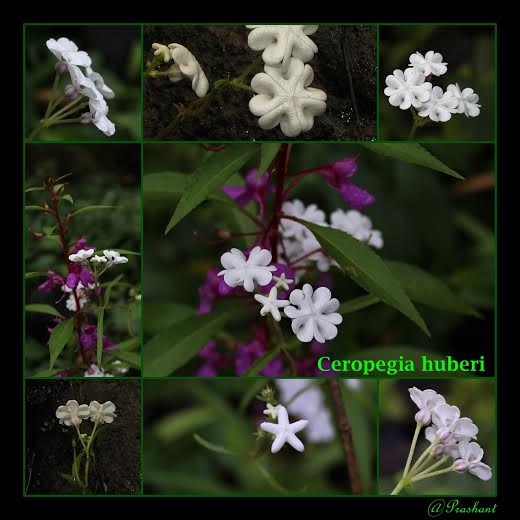 Dear Friends,
This particular Ceropegia was eluding me for long time. I was bit desperate to get this photographed this year. While i was trekking down the Madheghat (Historial trek route Connecting Torna fort-Kelad to Shivtharghal) during peak monsoon, i was greeted by this beauty. I was thrilled.
Ceropegia huberi, beautiful  Climbing herb is my "Flora Picture of Year -2015".
Regards
Prashant Awale
———————————————————————————————–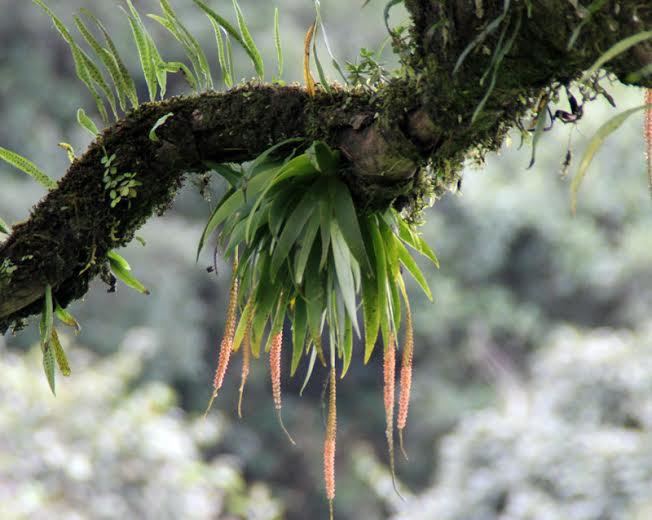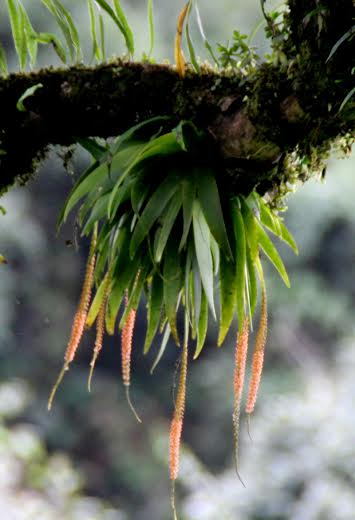 This Oberonia species was photographed below Mullayanagiri, growing on branch of a tree, alt 1700 m in Karnataka. Our talented member Tsp Kumar was with us on two day trip to two highest peaks of Karnataka Bababudangiri and Mullayanagiri showing us interesting and rare plants of Chikkamagaluru district of Karnataka. Knowing my weakness for orchids (in both senses: hardly knowing any orchids, only a few which I can count on my fingers, and my desire to know more about them)  he led us on difficult slopes, where he not only showed us beautiful plant (many new for me) but especially hunted down orchids. This was one such orchid perched on upper branches of a tree. It was difficult to reach the branches but luckily I could capture with my newly bought 18 mm to 220 mm Tamron lens mounted on my Cannon 550 D camera. This is what he commented later on Facebook Indian Flora "I was spellbound as the 'Guruji' took this picture….feeling like a midget before the mountain…!", a great appreciation from a talented Forest Officer, Plant lover and a accomplished photographer.
Photographed on September 26, 2015, the only thing which I know with certainty is that it is a species of Oberonia (first identified by Tsp Kumar ji). My friend Gajendra Singh from Facebook Indian Flora identified it as Oberonia pachyrhachis, a species obviously not reported from Karnataka. I sent these photographs to Pankaj ji also, who suggested either  Oberonia brunoniana or O. balakrishnanii. I hope to know the exact ID soon.
Gurcharan Singh
---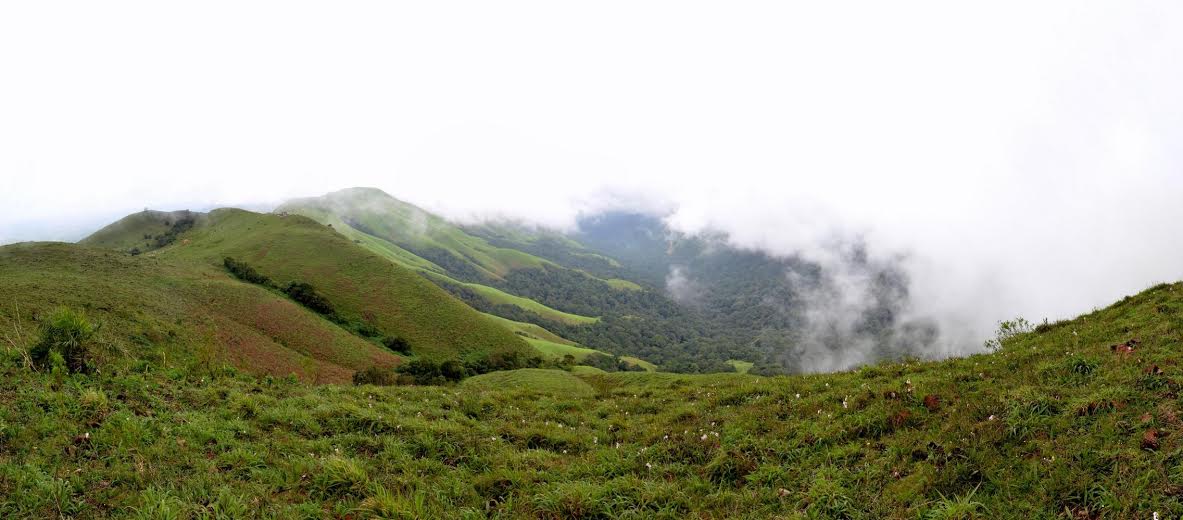 This year was especially fruitful for me as I was able to see an excellent number of Himalayan plants during the Churdhar trip organised by Dr. Balkar Singh. I was also able to make more trips to various wildlife sanctuaries in Kerala where I got a rich haul of many evergreen species. But the place that truly stole my heart this year was the montane grasslands of Devaramane in the Mudigere taluk of Chikkamagaluru, Karnataka. My hearty thanks go to Tsp Kumar sir as he provided me with the directions and suggestions on where and when I should go to during many trips this year and indeed Devaramane was one of his suggestions. 'Devaramane' literally translates to the 'home of the gods' and certainly this place, as is fairly evident from the attached photo, deserves the name.
As most of the members here know, it takes a lot of planning to make trips to even nearby areas and somehow, my visit to Devaramane was superbly well timed and well planned. I visited the place just after the peak of the monsoon had passed, the weather was absolutely stunning and in the company of my wonderful friends the trip was, in short, nothing short of spectacular. This particular trip will always hold a special place in my heart. I think it would be appropriate to say I have and will always be at a loss to truly describe what a stunning place Devaramane was so I hope the picture does justice to the sholas.
Anurag Sharma
---
My tryst with the Queen……………Ceropegia elegans.
The genus Ceropegia has always been an enigma. The different floral shapes and colours have fascinated me. I had read that about 43 of the 53 species that are known to occur in India are threatened and have become rare and genetically depleted. I always searched for them, when on field duty, with no success whatsoever. They remained as elusive as quicksilver.
24-06-2014 was another day that I could not keep indoors. It was mid-monsoon. The call of the Giris, my favorite "beckoning hills," was irresistible. The imposing cliffs, winding roads, mesmerizing mist, blinding rains and its orchid perfume always beckoned me. Unmindful of my nemesis, those cold, slithery, and bloodthirsty leeches, I set out with my team hoping to find some orchids. The day was fruitful as we could find quite a few orchids, terrestrial and epiphytic as well.
The climb was arduous and my nemesis had its fair share of my blood. The sun was already behind the western hills and the light was falling rapidly. We hastened our descent hoping to get into the safety of my Bolero before it got too dark. Before getting into the vehicle, I stopped for a while to fill my lungs and to examine my shoes and socks, Bent a little, kick-dropped a couple of leeches and looked over my shoulders…! I thought that a pair of small, greenish, serpent-like eyes was watching me from among the thickets a few feet away.  I stared for a while, eye-to-eye, and blinked first. Spellbound for a few seconds, I went closer. My heart missed a few beats as I realized that it was not a serpent, but an alien looking flower….! Yes. She was a Ceropegia….my Queen…! I had inadvertently stumbled upon the 'Queen of Ceropegias' that was later identified as Ceropegia elegans by that master explorer of Ceropegias, Mr.Sushant More.
She has been a lucky mascot for me because later on I could meet her mates as well during the year. Ceropegia juncea, Ceropegia biflora, Ceropegia candelabrum and the King himself, Ceropegia gardneri…! I have been recapitulating 24-06-2014 every now and then ever since.
The images I took that day, in the falling light, are my treasure and occupy a prime place in my heart and archives as well. Hence she is my 'Flora picture of the year'
Regards
Tspkumar
---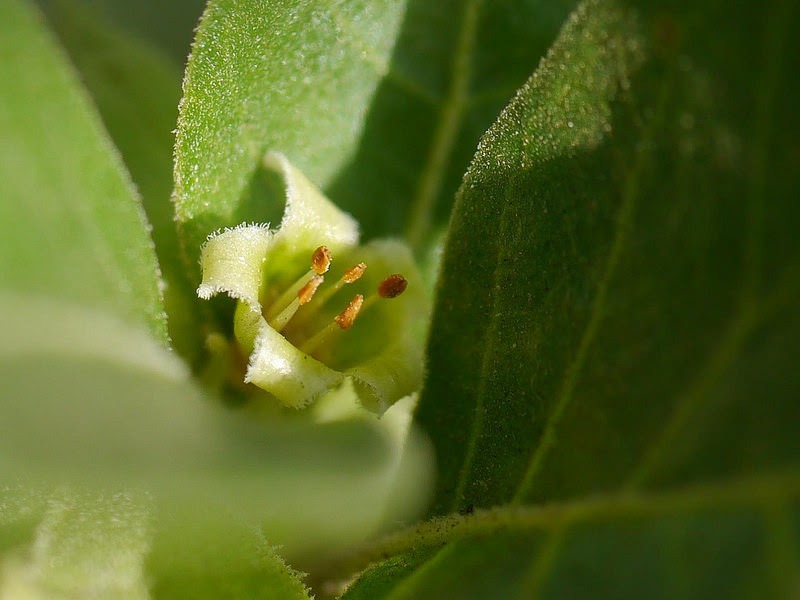 The joy of finding an elusive plant is almost the same as finding a rare unknown one.
We had finished our breakfast at a hotel near Satara on Mumbai – Bangalore highway, and were ready to continue further, when Shrikant ji and Prashant showed me Ashwagandha growing by the side of road. I was least expecting it in that place !
Dinesh Valke
---
Posted by SATISFIED at 7:16 AM
---