Pomatocalpa spicatum Breda, Gen. Sp. Orchid. Asclep. 3: t. 15 1829. (syn: Cleisostoma crassum Ridl.; Cleisostoma expansum Rchb.f.; Cleisostoma mannii Rchb.f.; Cleisostoma uteriferum Hook.f.; Cleisostoma vitellinum Rchb.f.; Cleisostoma wendlandorum Rchb.f.; Pomatocalpa expansum (Rchb.f.) J.J.Sm.; Pomatocalpa mannii (Rchb.f.) J.J.Sm.; Pomatocalpa setulense (Ridl.) Holttum; Pomatocalpa vitellinum (Rchb.f.) Ames; Pomatocalpa wendlandorum (Rchb.f.) J.J.Sm.; Saccolabium hobsonii Ridl.; Saccolabium setulense Ridl.; Saccolabium uteriferum (Hook.f.) Ridl.; Saccolabium wendlandianum (Rchb.f.) Kraenzl.);
.
E. Himalaya to Hainan and Malesia: Andaman Is., Assam, Borneo, East Himalaya, Hainan, Jawa, Laos, Lesser Sunda Is., Malaya, Maluku, Myanmar, Nicobar Is., Philippines, Sulawesi, Sumatera, Thailand, Vietnam as per POWO;
.
---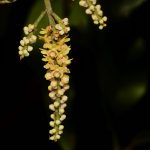 Best flora picture: 1 image.
Here attached is the best flora picture of mine.
I have chosen this, not only because it is one of the best flora pictures of mine but also it is not yet on our site.
Will send you a full set of pictures soon.
Pomatocalpa spicata, Breda.
From Thattekkad, Ernakulam district, Kerala.
Picture taken on 13-3-2022
---
Are you saying you found this plant in wild in Kerala? Because I am not sure if it is known from Deccan part of India.
The image used in Orchids of Kerala is surely a cultivated plant.
And, a very nice picture!!
---
Yes it is from wild and I found it in different places deep inside forests in several places.
There is no chance of this being an escape from the garden as the locations I found were very far from habitation and so far, I haven't found any nurseries or home gardens.
However, I have a plant at my home, collected from natural habitat. Collected when there was no flower and I wanted to see flowering to confirm the species. Then I located the same at various places since 1998.
---
---
.
References:
POWO  Catalogue of Life  The Plant List Ver.1.1  WCSP  IPNI  GBIF (High resolution specimens) Flora of China  FOC illustration  India Biodiversity Portal  Wikimedia Commons  IOSPE Photos  Orchid roots