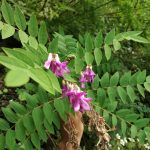 I'd required:
Fabaceae member
Courtesy- jaffer bhatt..
---
Do you have any other images?
---
No sir this the only picture we have…
---
One of my colleague suggested hedysarum cachmeriana 
In a FB group plant wealth of India.
---
Appears different from the POWO specimen.
---
Pl. try with other species as per keys from Flora of Pakistan
---
Ok, I will check.
---